The 3d anniversary is not a joke, as it is one of the most important dates that will remain in your memory forever. Choosing a leather anniversary gift for husband is an exacting and responsible task. You need to prove that you know everything about his interests and appreciate his taste.
Different
3d anniversary
ideas 
and creative things are available on the Internet. But you need to approach the issue with all the seriousness and wisdom. You won't believe it, but the 3d anniversary gift is a kind of a love indicator. Thus, a homemade cake or romantic dinner will barely work.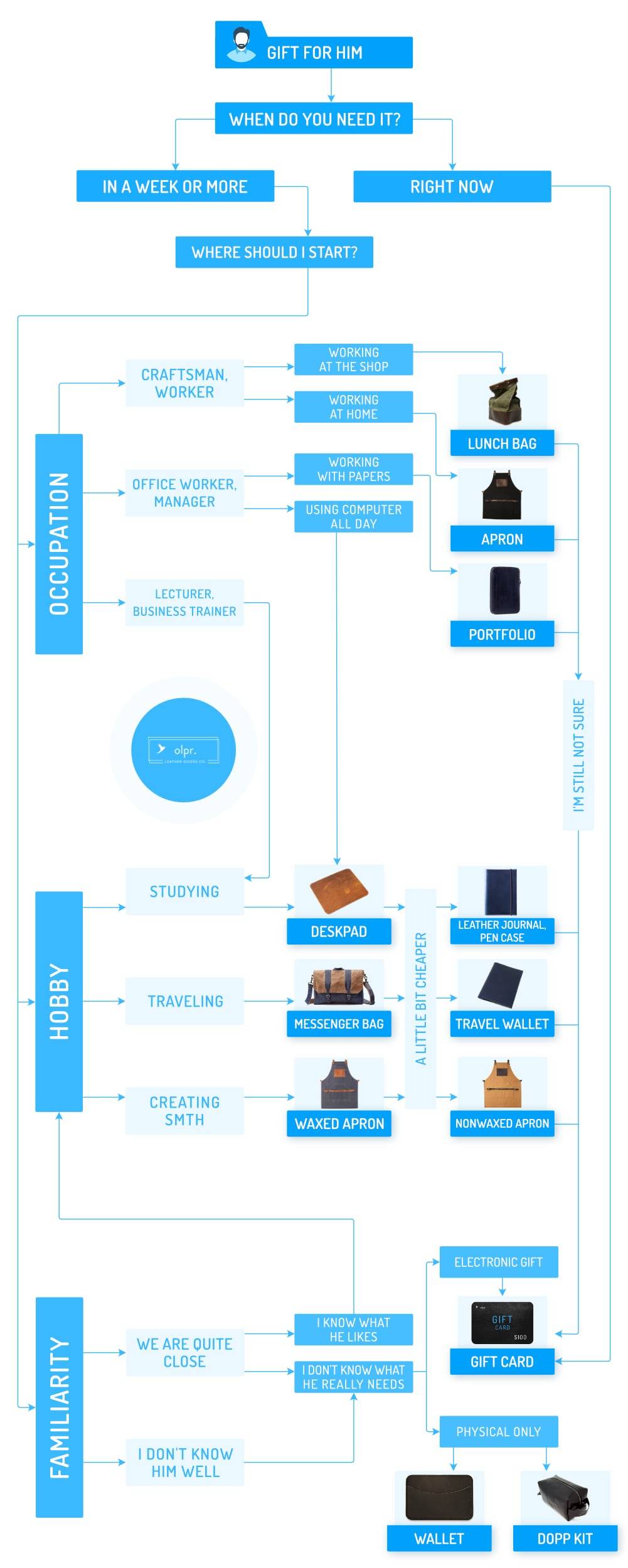 What's Traditional 3d Anniversary Gift?
Listen! 3 years of your coupledom is known as a leather wedding. The material represents durability, strength, and prosperity.
Therefore, forget about books and similar items. Focus your attention on something personalized and exclusive. A gift box for your man can be a good choice, but make sure it is filled with personalized things that show your concern and attention.
Leather gift ideas like bracelets, bands, cases and wallets, are not that expensive but commonly appreciated. Browse the Internet and visit olpr. website to find out luxury leather gifts for him.
There are no ways to change man's opinion, but there is always a way to make them enjoy the gifts. The biggest role in products for men is its manly style. Though if your aim is to make your brutal man softer, the choice has to be made in favor of Horween Leather products.
Show your attention and care combined with a thorough approach to the selection of the custom leather gifts. A personalized sleeve case for iPad or Apple MacBook is the way to protect your husband's device and bring some luxury to his busy business life.
Especially if he enjoys taking the tablet on trips. The multi-colored security sleeve, created with additional pockets and features, can launch the new wave of inspiration and style.
Leather is refined and strong to guarantee the long-time comfortable usage and good mood of its owner.
Stylish Apple Watch Bands
Modern men, following the fashion, pay much attention to the details of their outfit. Tablets and laptops, used for work and pleasure, do not exclude smartphones and hand watches, used 24 hours. It does not matter if you are a fashionable iWatch lover or conservative old brand watch user. There is always a reason to have a good quality watch band.
The Horween Leather has always done its best to guarantee your watch on your band more comfortable ever. There will be no skin irritation or broken parts, while the multi-colored choice and personalized size will make the band perfectly matching the man, who is going to wear it. Leather gifts for men have no limits, because the details are making the general image, and watch strap is the one to prove it. Good news! Ordering in bulk will save you a certain sum.
Look here! The best men's leather gifts are not DIY, but something he will use daily. Considering the pragmatism of an overwhelming majority of men, the best gift is something special, suiting his profession. Choosing the gift for a devoted photographer, it may be difficult to buy an expansive lens or other professional devices.
The option which can make happy any cameraman and do not destroy your budget is a soft nice leather camera strap. Only photographers can understand the hard-working shooting hours with several cameras. An experienced photographer will be pleased to get a quality camera strap. Don't forget, it is the best leather gift for man involved in photography.
HORWEEN LEATHER CAMERA STRAP PREMIUM - BROWN
The Horween Leather strap is a new way to spend working time, without damage to health. The strap, made of good strong leather will not only keep the camera secure but can be used as a customized promotion tool. Various lettering and stamping give a chance to use imagination to create a perfect gift for a creative personality.
No matter if your husband is brutal or gentle, a wallet is his indispensable part. Available in various colors, sizes and designs, they will serve as one of the best solutions for a fashionable man. Even more! Opt for a leather wallet with a special transparent for the picture.
Your man will not only be the best husband but a great daddy with the pictures of his kids and the whole family that are always with him. Horween Leather style will never go out of fashion. The quality of work and stitches always guarantee that your cards and money will be safely placed inside. The personalized wallet is so easy to order.
Favorite colors, images or famous quotes are widely used by our artisans, producing a unique leather gift for the one you care. Good exquisite wallet can contribute to the man's image at work and in the company of friends.
Surely, your husband has several credit cards, ID and driving license that are difficult to keep in order. So what? Custom leather card holder can become the best gift from a loving and caring wife or girlfriend.
Inevitable for every man, this accessory will contribute to a luxury look. Leather belts can be the most impressive and, at the same time, useful 3d anniversary gifts for him. 
Journals for Creative Men
Is your husband always busy with various deals? Does he need a notebook to arrange his plans and ideas? Personalized leather gift set with a journal and a pen can work wonders. 
Your husband is an experienced smoker, isn't he? Or is he a real cigar connoisseur? An embossed cigar case with his name on it will be an excellent men's leather gift. 
What's your hubby's profession? Is he a businessman, manager or an accountant? A quality briefcase will be an impressive gift to remind that you appreciate him always, even when you are both at work. Handmade bags by olpr. can highlight your approach and value of your relationship. 
If your husband works with documents or other papers and needs a pen or a few, a quality and unique leather pen holder will be a great leather gift for him. Opt for something special to emphasize your appreciation of his seriousness and style.