In 2014, Apple CEO Tim Cook announced before an eagerly awaiting crowd that Apple was beginning a new chapter in the tech giant's history by launching a wearable collection. As Apple is known to do, the company took a bold risk of moving technology from the phone to the body. The gamble paid off: Apple reported shipped 9.2 million Apple Watch units during the fourth quarter of 2018 alone. If you don't already own an Apple Watch, it is likely that you know someone who does!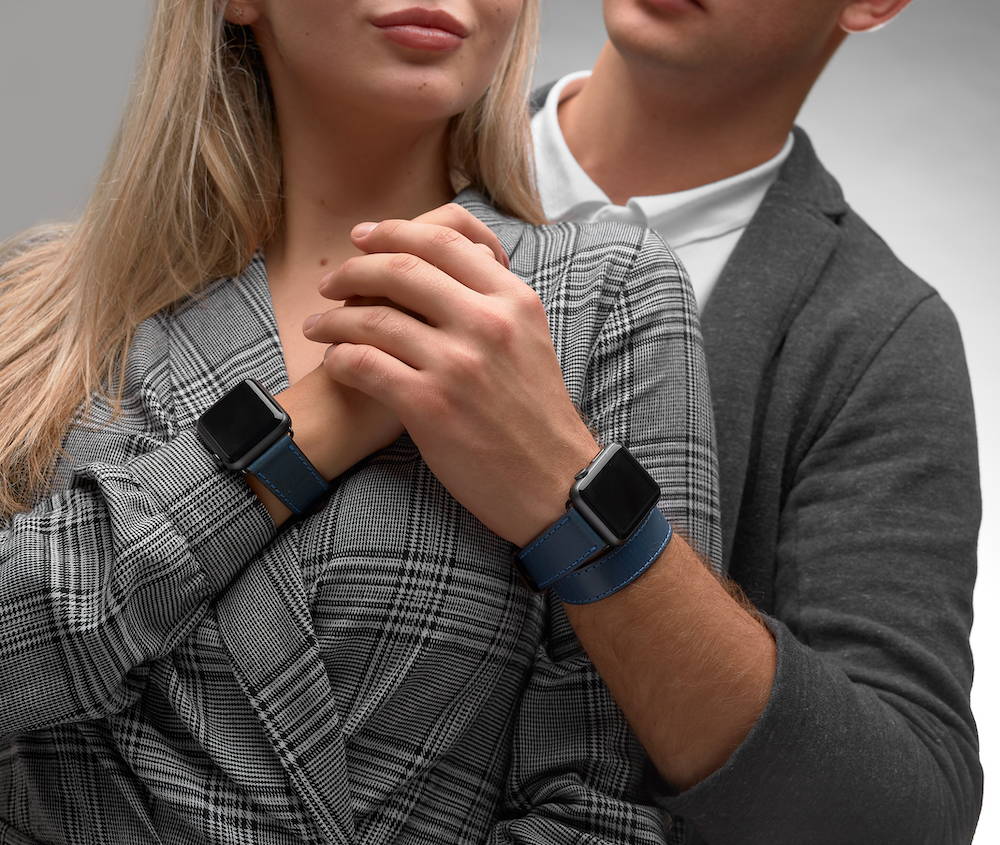 While Apple does not allow for third-party customization of their watch hardware or software, the tech giant did create the watch with clasps that allow users to switch and change their watch straps at will. Seizing the opportunity, fashion and accessory companies have begun to capitalize on the opportunity to offer customized bands. Now you can find a cool Apple Watch that matches nearly every outfit or activity.
Do you desire to upgrade your Apple Watch with class or color? Looking to surprise someone with a new look for their wrist? Below we've collected our top ten leather straps for Apple Watch in 2020. In building our list, we've looked at bands that offer a great combination of style, durability, functionality, and price.
Top 10 Leather Apple Watch Straps For 2020– Our BEST Choices and Reviews
#1. Chestnut Horween Leather Apple Watch Band - Our Top Choice For 2020
At the top of our 2020 list is the Chestnut Horween Leather Apple Watch Band - the perfect combination of style, functionality, and durability. This band is made of premium leather sourced from Horween Tannery (located in Chicago, Illinois). The Horween leather is full-grain cowhide and is not sanded during creation. The leather looks great and will develop a nice patina over time.
The nice Chestnut colored leather is nicely breathable, and pairs well with any style. Customizable stitching is also an option with this model. Clasp hardware comes already installed, ready to connect to the 42 or 44mm series.
Wearers may notice that when first worn this band feels bulky or dense because of the tough leather material. However, with time and consistent wear, the leather will begin to conform to your wrist and feel better on the skin. There also can be small imperfections in the full-grain leather material - a common issue that over time will actually give you a unique look.
Pro's
handcrafted to order
made of Horween dublin leather
durable leather will last a lifetime
develops a beautiful patina over the years
chestnut color is perfect for any outfit
Apple watch adapters are already installed
compatible with all series of Apple Watch
can be customized with colorful stitching
look more vintage and antiqued with time and wear
Con's
feels dense at first but gets softer with time
full-grain leather may have imperfections
#2. Brown Italian Leather Apple Watch Band - Classic Look With Durability
Our second choice of bands for 2020 is a classic brown Italian leather Apple Watch band. This band features genuine vegetable-tanned leather from Tuscany, offering a soft, supple look while being durable for everyday wear. Different stitching is available to further customize this band. The watchband is unisex, looking great on men or women. The strap is delightfully light, sitting comfortably on the arm, and is offered in three different sizes.
While the brown leather is durable, you should take care when considering this band as third-party connectors may not perfectly match the coloring of the watch case.
Pro's
soft and supple vegetable tanned Italian leather (sourced from Tuscany)
very nice brown color
great for both men and women alike
comes in three different wrist sizes
delightfully lightweight and comfortable on the wrist
can be customized with colorful stitching
leather has almost no smell at all
perfect for everyday use
Con's
third party connectors may not perfectly match the color of watch case
#3. Black Horween Leather Apple Watch Band - The Universal Standard
Third on our list is a standard for any Apple Watch owner - the stylish black leather watch band. When it comes to style for the business day, the Black Horween Leather Apple Watch strap is a nice choice. Crafted with Horween Dublin cowhide and available with customizable, durable stitching, the universal black color makes this option great for men or women and fits nearly any outfit or occasion.
Made in the USA from cowhide tanned with vegetable solutions, the black Horween band features an aniline finish, this band is known for being tough and long-lasting. The band is available in several sizes and like others has the adapters pre-installed.
When using it for the first time, the leather may feel stiff or dense. No worries, as the leather ages it will become more malleable wearable.
Pro's
universal black color
can be customized with colorful stitching
perfect for everyday use
handmade of black Horween dublin leather
comes in different wrist sizes
Apple Watch adapters are installed
completely handcrafted and made to order in the USA
Con's
leather may feel stiff at first, but it gets softer over time
#4. Red Italian Leather Apple Watch Band - A Bold Color For A New Year
Looking for an accessory with more personality? Consider the Red Italian Leather Apple Watch Band - our fourth choice for 2020. Crafted with soft Italian leather in the USA, this red leather band exhibits a unique rich red color and a durability standard with Tuscan leather. Made for men and women, this watch strap adds a splash of color that stands out against most watch bands.
The breathable, vegetable-tanned leather is soft on the arm and can be customized with colored stitching to provide extra durability. The strap comes in three different sizes to fit each series and most wrist sizes. However, because of the red coloring, this strap may seem the most feminine band but it's very attractive for some men too.
Pro's
completely handcrafted in the USA
made of the best quality vegetable tanned leather
sourced from Italy
compatible with all series of Apple Watch
rich red color
can be customized with colorful stitching
Con's
third party connectors may not perfectly match the color of watch case
#5. Chestnut Horween Leather Double Wrap Apple Watch Band - Our Top Unique Look Pick
Coming in at number five on our list is an Apple Watch Band featuring a wrap style that circles the arm to provide a fashionable look. The Chestnut Horween Leather Double Wrap strap well-built with a high-grade, full-grain Horween leather, which comes from portions of the upper cowhide. The leather is then treated with natural solutions to ensure an equally long life and standout look.
Like other Horween leather accessories, the double wrap band can show some variation or imperfections in the leather when created. The double wrap can also look and feel bulky on smaller wrists. However, the strap does come with customizable stitching and is unisex, fitting most wrist sizes. The fashion-forward individual in your world will love this option.
Pro's
made of the premium quality Horween dublin leather
multiple colors available
compatible with all series of Apple Watch
unisex design perfect for men and women
can be customized with colorful stitching
very comfortable to wear
Con's
leather is not waterproof
may look too bulky on small wrists
#6. Brown Italian Leather Double Wrap Apple Watch Band - A Classic Take On Double Strap Style
The brown Italian leather double wrap is number six on our list and features the same great features of our number two pick. Handcrafted out of soft vegetable Tuscan tanned leather, this unisex watch sits comfortably on the wrist while providing breathability through the nice double wrap design.
A great competitor to the popular Hermes style watch, this brown double wrap is a stylish option for those wanting something more out of the ordinary. The strap offers customized stitching arrives with connectors already built-in.
The brown Italian double-wrap will cost you more than others on because of the extra leather required for the double wrap look. The leather may also feel a bit tough at wear but over time will fit nicely, and like other brown leather options, develop a unique patina as it ages.
Pro's
made of the premium quality Italian leather
compatible with all series of Apple Watch
unisex design perfect for men and women
clever design for breathability
soft and flexible straps
similar in style to the Hermès band
leather has almost no smell at all
Con's
just a little more expensive
#7. Cream Italian Leather Double Wrap Apple Watch Band - An Eye-Catching Double Wrap
At number seven is a cream-colored take on the Italian Leather double wrap band. The universal cream color offers versatility for both male and female wearers and goes with any outfit or style. Made nice aniline Tuscan tanned leather, the cream double-wrap strap offers a unique yet classy look that will last through daily wear and tear. The watch band features hardware that will fit any Apple Watch series easily.
The cream leather double-wrap strap is priced similarly to the brown double wrap, due to the extra material needed to create the band's length. Like many leather bands, this strap will not hold up in wet conditions, so care must be taken when wearing it in wet conditions.
Pro's
handmade in US from Italian leather
best quality aniline leather
soft and flexible straps
similar in style to the Hermès band
easy installation and removal
compatible with all series of Apple Watch
soft and gentle on the skin
Con's
just a little more expensive
#8. Natural Colored Shell Cordovan Apple Watch Band - A Great Pick For Long-Lasting Style
Number eight on our list features a unique band that ages well over time. The natural Shell Cordovan leather is sourced from the US-based Horween tannery and is often used for high-end items. The shell cordovan leather is strong, made of tough connective tissue found in the hide of horses. To the eye this band fits a feminine style, yet is unisex. Fitting most arms, this strap would be a great addition to your collection.
The strength stands up under most common wear and tear, and can withstand scratches and most liquids. However, the leather won't stand up to water. A unique element of the shell cordovan leather is its resistance to creasing, staying supple forever and developing a nice patina as it ages. The color and luster continue to grow complex over time. This strap does have a higher price tag than other options and only comes in two color choices.
Pro's
handmade of best quality Horween Shell Cordovan leather
exceptionally durable leather does not crease or pebble and remains smooth and supple forever
naturally resistant to water
has rich shell cordovan aroma
develops patina and even more complex color and luster over time
compatible with all series of Apple Watch
Con's
just a little more expensive
only two color choices
#9. Orange Caiman Leather Apple Watch Band - The Adventurous Watch-Wearer's Choice
Offering a similar splash of hue and uniqueness as the red Italian arm accessory, the orange Caiman leather band brings a flair to the bold and adventurous watch wearer. Made with durable Caiman leather, the bony plating of the leather feels great to the touch and carries the watch band through daily wear. The leather offers a strong look while feeling great to wear.
The striking look also has a higher price tag and limited color choices. The strong Caiman leather does fit a bit stiffer on the arm than other options on our list, so you must measure your desire for durability or comfortability with the Caiman leather look.
Pro's
handcrafted of the undeniable durable caiman leather
provides an expensive, high-end look
exceptionally durable leather does not crease over time
naturally resistant to water
compatible with all series of Apple Watch
comes with large selection of stitching colors
Con's
just a little more expensive
limited color variety
just a little too stiff
#10. Natural Colored Horween Leather Apple Watch Cuff Band - Best Pick for Band Options
Last, but certainly not least, our final top pick for 2020 is the natural-colored Horween leather cuff band. This fashionable cuff band features the same durability expected from other Horween leather straps and features a fantastic look and feel. The cuffed watchband can be used with or without the cuff, offering extra customization options depending on your outfit or other accessories. The band's look is reminiscent of the popular Hermes style cuff band but built with USA-made tanned leather. Great for men or women, this strap fits most arms. However, the cuff may feel large or bulky on smaller wrists that are not used to accessories of this size.
The cuff band is only offered in one stitch color and may take time to fit well when first worn. However, the leather will form with wear and develop a unique patina with age. For those looking for a cuff-style band that is changed easily, this one absolutely fits the bill.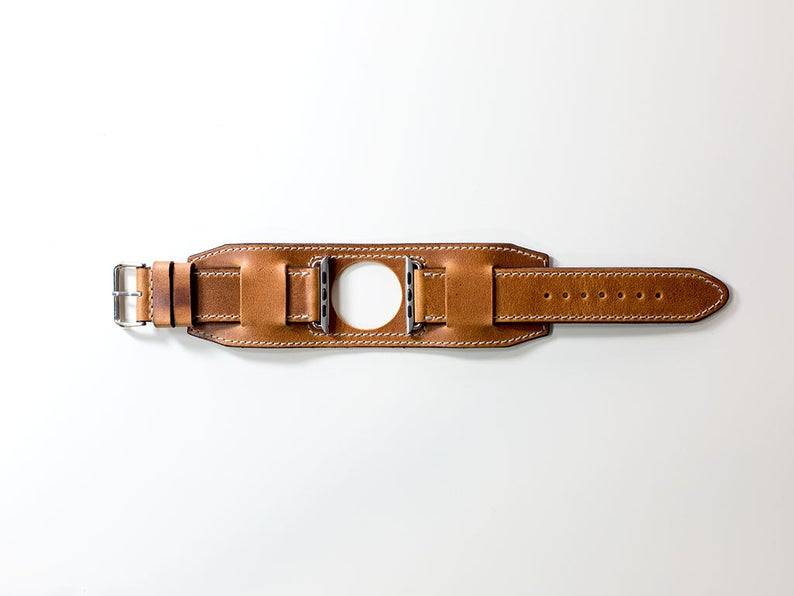 Pro's
crafted of the high quality USA made leather
can be used with and without the cuff
looks and feels fantastic
similar in style to the Hermès cuff band
full-grain leather will look nicer and develop a patina from being handled
Con's
no stitching color choices
leather may feel stiff at first, but it gets softer over time
Buying Your Next Band - A Quick Guide
With so many ways to customize an Apple Watch, we had trouble narrowing a list down to ten! How do you know which one is right for you? As you look for your next watch band, consider the following important details:
The Materials Making Up The Band
When it comes to the construction of accessories like a watchband, many will choose the cheaper option to protect their budget. However, a cheaply-produced watch band may end up costing you more in the end as you continuously replace worn out or broken straps. Being close to your hands, your watch will take a beating as you wear it every day. When you look at buying a band, you will need a strap that can stay strong while still looking stylish.
Common in each of the ten straps above is a common material - high-grade tanned leather. While locally-sourced leather is more expensive than plastic or metal bands, consider the price as an investment in the life of the watch. Well-made leather, when properly maintained, will hold its shape and structure for years, while metal and plastic bands can break easily. Consider investing in a slightly more expensive but longer-lasting option when picking the construction of the band.
Make The Right Connection
Without the ability to connect to the main watch face, a nice band doesn't serve much use. When looking at accessories, be sure to consider the hardware that hooks both pieces together. It was nice of Apple to make their watch bands versatile, many watchbands do not arrive with the hardware to connect the clasps.
As you search for a new band, look for the proper connector size and style pre-installed on the material. A wrong size could leave your watch at risk of disconnecting during regular use or worse - not connecting at all!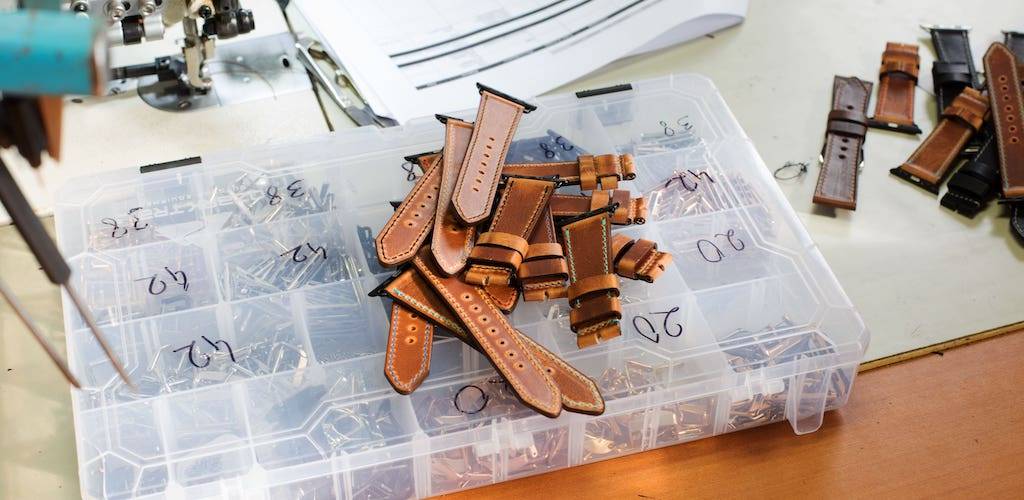 Form Over Function?
The way you intend to use your Apple Watch will help determine what type of band or strap to purchase. Apple has marketed the Apple Watch to be a multipurpose watch that is wearable in every conceivable way - whether as a fitness tracker or a date-night accessory. Depending on the way you will use your watch, the strap needs to hold against the elements.
If you are looking to use your device as a fitness tracker, be sure to check whether the strap is truly waterproof or holds up against sweat and dirt. There is a huge difference between being scratch/water-resistant or waterproof! While an expensive leather band may look great, the cowhide may not hold up well after that swim in the pool!
The great thing about having the ability to switch straps is the flexibility to easily change your bands between activities. Take the time to see the band may be switched as quickly and as often as your clothes, which will ensure that your bands keep looking and functioning great!