It's the holiday that seemingly has the most pressure when it comes to buying something as a gift for couple. Your significant other deserves a special present, isn't they? But you never know what's too much, too little, too cheesy, too formal, and everything in between. Do you settle for flowers and chocolate? Or do you go all out with a big present?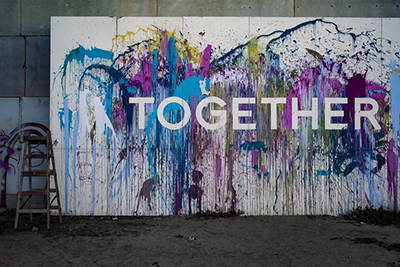 Image by Adi Goldstein, Unsplash
What if there's something in between that is thoughtful, exemplifies personality and perfection?
Well, there's a solution.
Gift ideas for couples can be difficult, especially when they're matching, because it's important to combine both tastes in one.
Meeting in the middle is ideal for your relationship, but luckily, with leather goods, it's pretty hard to not find something suitable.
Why Matching Couple Gifts are the Best
Presents on Valentine's Day don't need to be hyper-personalized to the person like you would do for a birthday, just enough to show you care. The gift doesn't have to be something from your partner's Amazon Wishlist, in fact, it can be even better if it's something they would never suspect.
Most people don't want a gift itself, instead, they want to know they were thought of and loved by their significant other.
They would prefer to feel special have a present that really doesn't mean anything with a bow on top.
V. Day is dedicated to love, and there's no better way to show that than to amplify your desire to be a partner.
Matching sets are evidence of this in the idea that you want to be part of something meaningful.
You want to show that this present is not only something you felt like your partner would like, but it's also something you can enjoy as a couple too.
"Matching couple gifts are a fun way to share something with your boyfriend or girlfriend without having to share the same one item. My boyfriend and I love to match when we're apart because it's a nice way of making us feel closer to one another. When I miss him the most, I wear the leather strap he got me, and he'll wear his too, so it feels like we're next to each other. We don't have to go long distance often but when we do, it's really important that we stay close. We want our love to endure any test of time or distance." – Monica, Orlando, 25
His & Hers Gift Ideas: Why not Chocolate?
While any drug store or department store will be teeming with stuffed animals, leave those to the middle schoolers with less creativity and money in their wallet. It might be cute in the moment, but by the end of the week, the plush bear only takes up space and will likely end up in the back of the closet or even in the trash by the end of the month.
Modern men and women would much prefer practical couple present to the cheesy and stereotypical that costs $7.99 at a CVS.
They want something that lasts and serves as a sentiment to their love and relationship, not that was a last-minute thought in the checkout line.
Originality and customization are truly what's appreciated most, for longer than just the moment of opening.
"I'll never not appreciate the gifts my girlfriend gets me, but I don't always get excited when I see that it has something to do with sweets or chocolate. I've been trying really hard to watch my diet and just stay health.
Whenever I get a lot of candy around me, it makes me want to cheat on my progress and just dive in on any bad or good day. It also makes me feel like she didn't put in as much effort as I put in for her because I can go to any store and picked up chocolates in the shape of a heart for myself and it will all taste the same.
But I can't go to the store and pick up a journal with a whole story behind it because when she chooses it, she has a reason. She made a choice to pick that color and that size for me. It makes having those items a lot more special instead of me just popping in a store and picking up a thing that was on sale.
I'm way more eager to write more too because of how much love is filled in it." – Taylor, Boston, 32
Non-Cheesy Matching Present Ideas for Two
Now that you know what not to get your significant other as a Valentine's gift, you're probably wondering what you should get. Safe in price and purpose, these options are the faultless unisex presents that are fit for any occasion – their purpose goes beyond their use for holiday only.
Our top pics items are perfect for gay couples, newlyweds, spouses married for many years, or lovers dating just a few months. Here are some tailored, timeless, and smart options:
1. Matching Apple Watch Bands
If you and your partner have
Watches, this is the perfect choise that is both cute and practical. A leather strap is ideal for dressing up or dressing down and can even come in different leather and thread colors if you prefer green and your partner prefers blue. These straps also come in diverse styles, so that you can be matching but not too on the nose, as well.
Real leather watch straps:
Single, double wrap or custom made cuff watch band

Leather type: Italian, Horween, Shell Cordovan or Caiman

Colors: Red, Brown, Natural, Green, Blue, Black, Chestnut
This is fun if you and your partner already use your watches in tandem. Some couples love to track each other's activity to promote health and wellness in friendly competition. This band would be another way you could look down at your watch and appreciate the person you have by your side.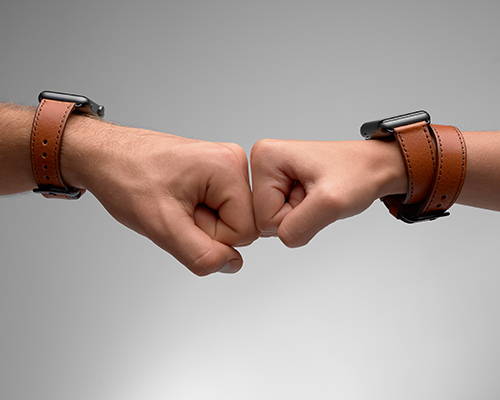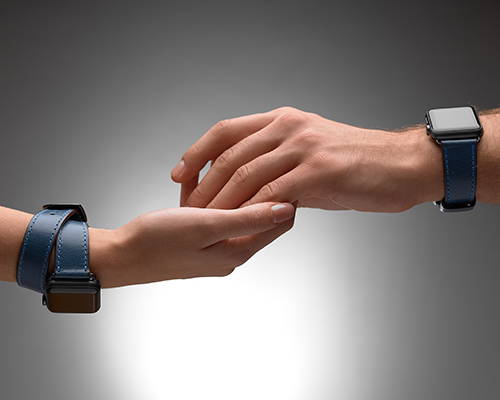 ---
---
If you and your crush are creatives or working professionals who constantly have your hands dirty, a durable apron could be the best personalized, yet functional, present. Woodworkers, servers, bartenders, sculptors, florists, barbeque-ers and more will love not just opening this, but also wearing it every time they go to participate in their craft.
canvas & leather apron:
Materials: Crazy Horse leather + Canvas

Personalization (initials or logo): Available
While you're working, you still want to feel confident in what you're wearing, so a sleek apron would tie that in, along with your shared adoration for one another. You can choose the same color leather to match through and through, or you can choose two separate ones that way you share the same sentiment but not match completely. This is the perfect way to look down at what you're wearing while you're working and be reminded of the love you share at home and during every moment of the day.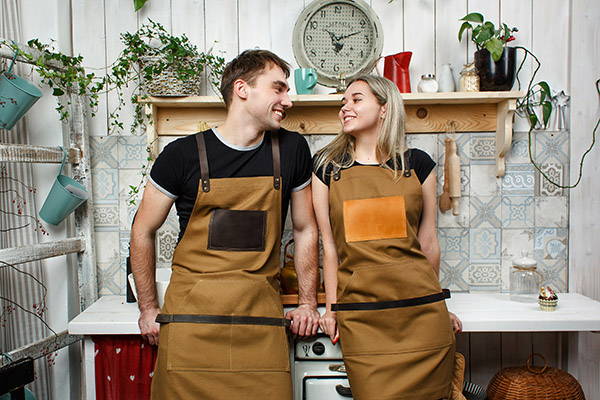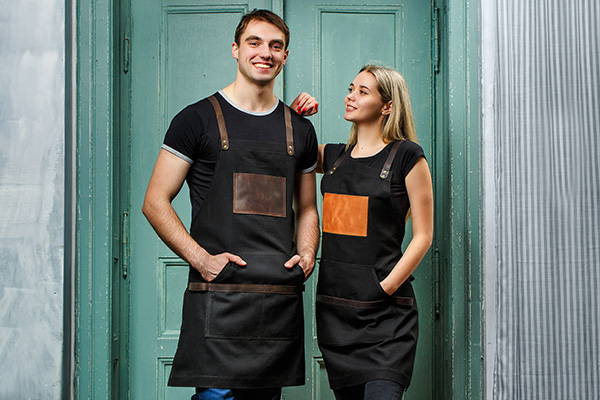 Whether you're married, engaged, or simply dating for a few months, if there is one thing that ties you to your partner, it's time. Over the course of your relationship, you will share habits and common memories, and to always remember ev