When it comes to notebook competitions, Moleskine cahier and Field Notes are on the higher end of the pocket notebook spectrum. Our article covers all you need to know about Moleskine vs. field notes, so keep reading for more information. 
There are thousands of different options when it comes to choosing a quality notebook. Due to some characteristics, Moleskine and field notes are at the top of the list. What is the difference between both options, and which should you choose? 
Both options share one similarity, and that is the fact that they are extremely popular. They also share many differences in terms of size, covers, and styles. For example, Moleskine has a wide variety of sizes to choose from, while Field Notes only make pocket-size notebooks.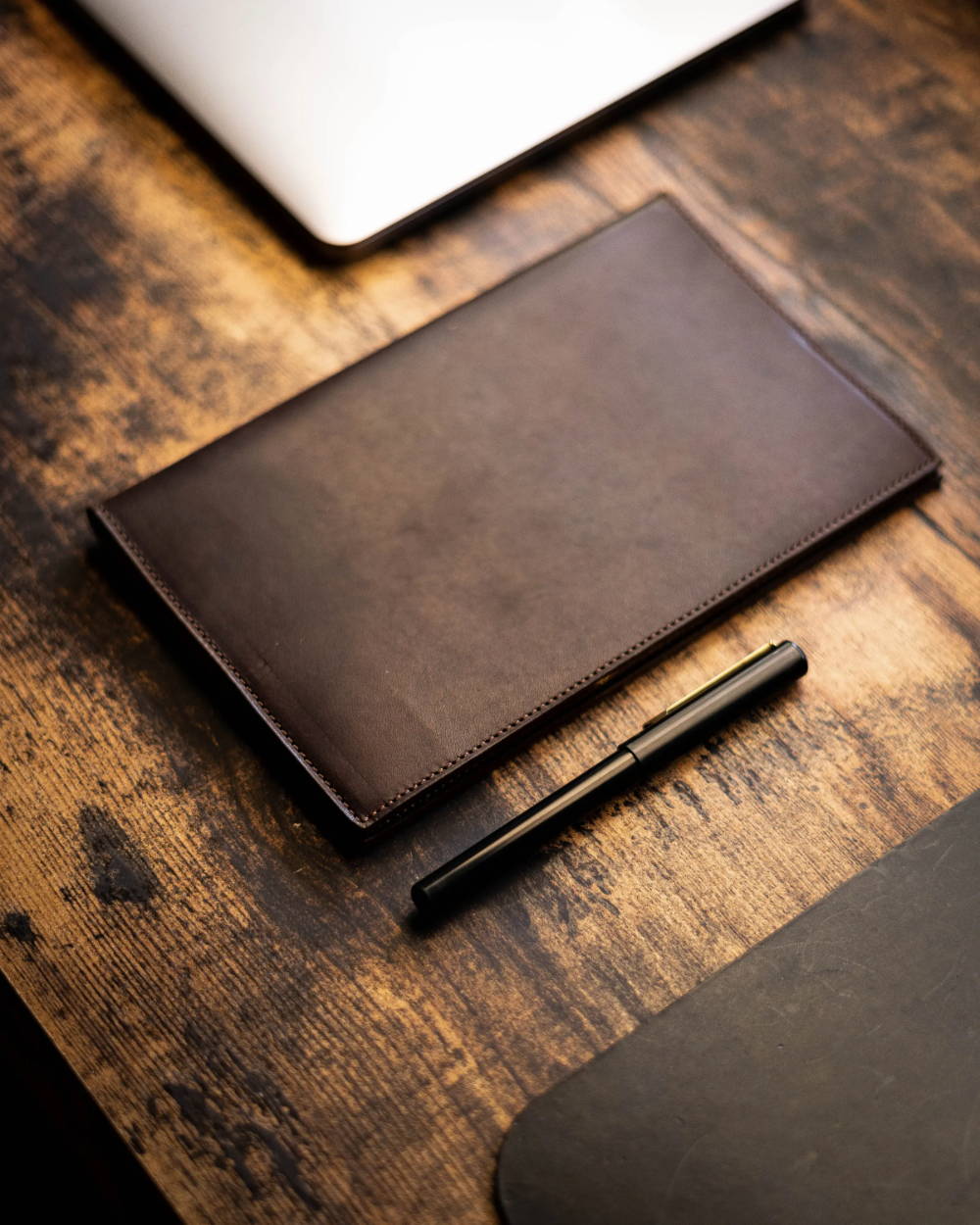 What is Moleskine?
Moleskine notebooks are found everywhere and used by a lot of people due to their amazing features. First off, these notebooks have trademark hardcovers that are difficult to miss. The company also offers a wide variety of notebook sizes and a small selection of paper types. 
You can purchase Moleskine notebooks everywhere as they are popular and stand out due to their design and quality. They are small bound notebooks with a ribbon bookmark attached to the spine and an elastic closure. 
Moleskine notebooks are special due to their vinyl semi-hard covers. They are durable enough to withstand the rigors of overfilled backpacks and back pockets. They also come in different page types like a grid, ruled, blank, and so much more.
Lastly, Moleskine notebooks are manufactured in China and designed in Italy.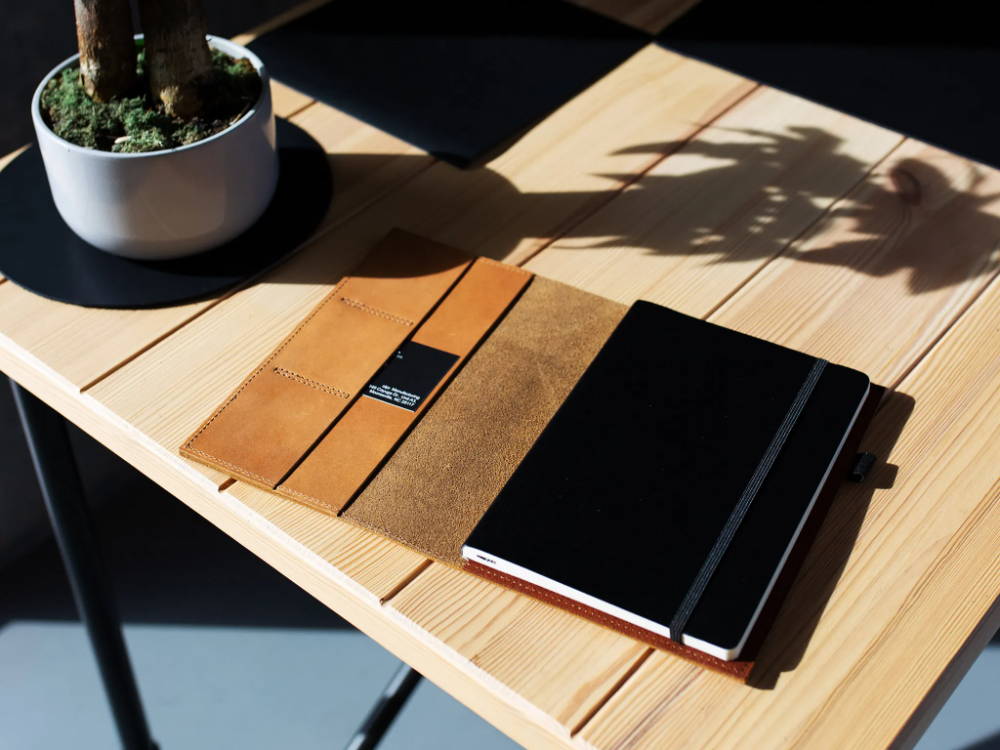 What is Field Notes?

 
Field Notes are so popular that you can walk into any bookshop or department store and find it. This is because of the peculiar characteristics that it features. They are made and designed in the United States. 
Field Notes offer vintage-inspired and smartly-designed pocket notebooks and other products like journals, calendars, and notepads. The notebooks can be used for sketching, research, reporting, and even writing groceries. 
Field Notes notebooks are of good quality and come with plain, graph, or ruled pages in a brown color (their signature kraft). This notebook brand is popular due to its smaller runs of limited edition notebooks.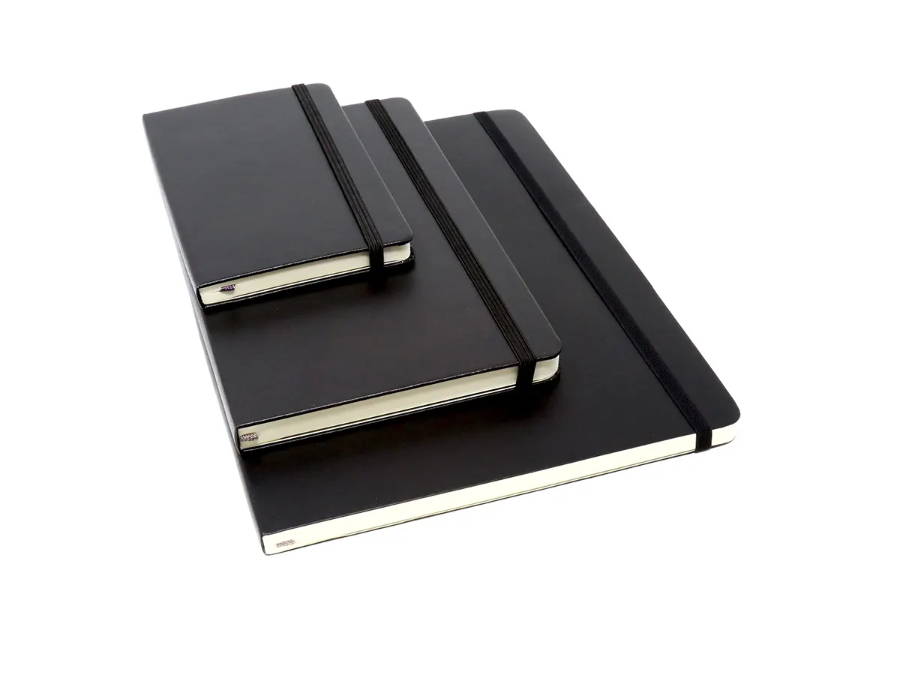 Sizes

 
When it comes to sizes, Moleskine has the upper hand since it offers more sizes. Field Notes only deals with pocket-size notebooks, so if you want bigger notebooks, there are better choices than this one. 
Olpr. offers a wide variety of beautiful leather field notes journals available in different sizes for buyers. These field notes come in different so you can consider aesthetics when choosing one. 
As stated above, Field Notes offers only one notebook size – 3.5 x 5.5 inches – but buyers can get this size in different colors and types of paper. Everyone knows that when choosing a notebook, you should consider the paper style and quality – does it suit your needs? 
You cannot purchase Field Notes as a single or large notebook. Instead, you can only buy them as a 48-page notebook (three-pack). 
A Comparison Table
| | | |
| --- | --- | --- |
|   | Moleskine  | Field Notes |
| Sizes  | Moleskine offers different sizes for the notebooks available, some of which are listed above. The large size is the most popular option, followed by the pocket size.  | Field Notes only offers pocket-sized notebooks, so if you are looking to purchase bigger sizes, Moleskine is the better choice. However, you can buy pocket-sized notebooks in different colors and paper types.  |
| Manufacturers  | Moleskine is an Italian papermaker, manufacturer, and product designer. Francesco Franceschi founded it in 1997. Moleskine notebooks are manufactured in China and designed in Italy.  | Field Notes notebooks are made and designed in the United States. It is a joint venture by the Coudal Partners in Chicago III and the Draplin Design Company (Portland).  |
| Colors  | Moleskine notebooks come in a wide variety of colors, such as sapphire blue and coral orange.  | As stated above, Field Notes notebooks come in a variety of colors but in just one size.  |
| Variety | Moleskine is quite extra as they offer more special editions than Field Notes.  | On the other hand, Field Notes is more on the simple side as they do not offer as many special editions as Moleskine.   |
| Covers  | Moleskin offers more covers for buyers to choose from.  | Field Notes offers only one basic cover, which is pretty boring.  |
| Quality | When it comes to quality, Moleskin is at the top of the list, as all its notebook styles are durable and strong enough to withstand a good beating.  | Field Notes notebooks are similar to the kind of cover you will find on a spiral notebook (the standard one). This does not reduce durability.  |
| Paper quality  | Moleskine notebooks come in plain, ruled, dot-grid, or squared paper.  | Field Notes only offers plain, ruled, and squared. Since the notebooks are sold in a pack of three, buyers can get a mixed pack.  |
| Price | How much does a Moleskine notebook cost on average? The pocket-sized Moleskine notebooks have a starting price of 12 dollars at retail.  | Almost all the editions of three packs of Field Notes are sold for 10 dollars.  |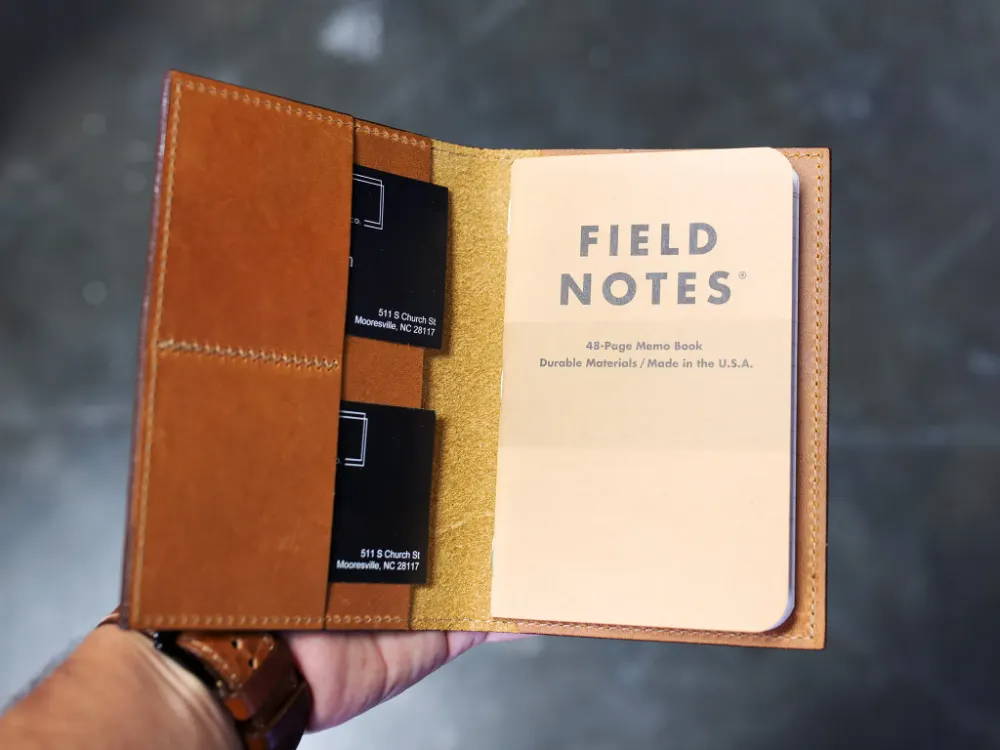 Covers

 
Moleskine comes with three main cover options: hard, soft, and cardboard. They are all durable and designed to take a good beating. Out of all the covers, the hardcovers are at the top of the list when it comes to durability. The soft cover and material are also strong to an extent. 
The Moleskine Cahier line is similar to the Field Notes style, but it is a lot stiffer and has a stitch style. This means that it cannot bend or fold as much as Field Notes books can. The soft covers and material will do just fine when sitting in an overfilled backpack. 
Hard Cover: Moleskine's hardcover notebooks are the most popular option. They have an elastic closure, with a cloth bookmark and an inner pocket in the back that is expandable. Lastly, the hardcover notebooks are cardboard bound.

 

Soft Cover: the Moleskine soft-cover notebooks are similar to the hardcover ones. The major difference is that they are more flexible. They also come with an inner pocket that is expandable, a bookmark, and an elastic closure.

 

Cardboard: This is Moleskin's Cahier line, similar to the Field Notes notebooks. They are a lighter shade of cardboard than the hardcovers. They do not have the elastic closure like the above options, and they come in three different sizes.

 
The Field Notes notebooks have one basic cover. They come in a light brown cardboard cover – similar to a brown paper bag – that is pretty floppy. This means they are similar to the covers on standard spiral notebooks, but this does not reduce their durability. 
Instead, it means you can easily roll the notebook into your pocket and bend it to your satisfaction. 
Paper Quality
Paper variety and quality are essential factors to consider when buying a notebook. Luckily, both companies offer different paper types, as explained above. When it comes to paper quality, both companies are top-notch. 
Moleskine and Field Notes do not offer heavy paper that works well with paints or markers. But ballpoint pens and pencils work perfectly fine. Moleskine's paper is a bit yellow while Field Notes is more white – this is the noticeable difference between the two. 
The paper Field Notes uses for their notebooks is different as they change it depending on the edition. But, 50 lb text stock is used for most of their products. On the other hand, Moleskine uses acid-free paper (47 lb text stock and 70 gsm).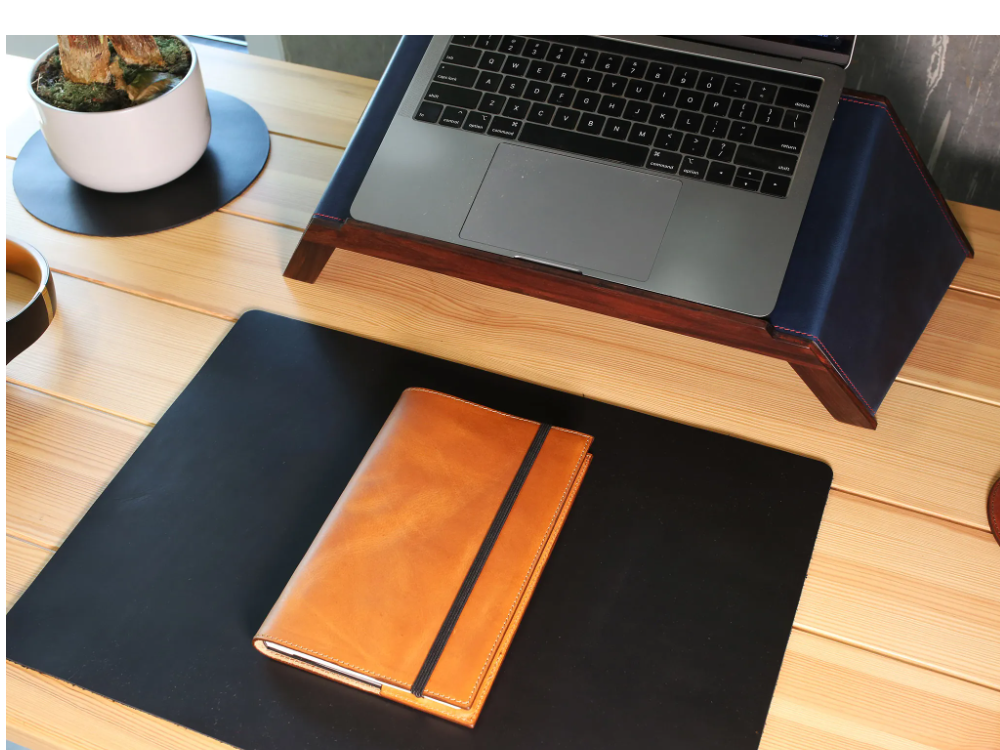 Is Field Notes the same size as Moleskine?

 
Yes, it is. Moleskine offers different sizes of notebooks, but their pocket-sized notebooks are the same size as Field Notepocket-sized notebooks. 
What is special about Moleskine notebooks?

 
Besides the fact that they come in different colors and sizes, Moleskine notebooks are durable. They have been designed to withstand everyday usage. The vinyl and semi-hard covers are built for this. 
What is so great about Field Notes notebooks?

 
Field Notes notebooks are very popular despite their simple and minimalist design. These notebooks are flexible, durable, and pleasing to the eye. 
What size are field notes?

 
Field Notes stick to one size for their notebooks, the pocket size. The notebook's dimensions are 3.5 x 5.5 inches. 
What size is Moleskine A5?

 
The Moleskine A5 notebook is 5 x 8.25 inches / 13 x 21 cm. 
Are Moleskine notebooks worth it?

 
Moleskine notebooks are of high quality and highly durable. Buyers are guaranteed to get the worth of their money. 
Conclusion
For you to have found this article, it means you are wondering whether Field Notes is better than Moleskin and vice versa. It all comes down to what exactly you want in a notebook and which of the two companies can give it to you. 
Do you want to be able to pick from a wide variety of sizes? Do you take aesthetics very seriously? What kind of paper type do you need? Ask yourselves these questions and more, and you will be able to figure out which is the best for you.