Table of content
What is Moleskine?

Moleskine sizes - notebooks

Moleskine A5, Cahier size or pocket size - which one is yours?

Leather Moleskine journal cover - natural material & high durability

Conclusion
Here at olpr., we are often asked by our partners, customers, and friends about differences between our products. Especially it concerns Moleskine notepads.
We take great pride and joy in what we do. We love spoiling our clients with a variety of choice. At our website you have an ability to get that exact thing that perfectly suits needs and personality.
In order for you to be able to better understand what Moleskine journal sizes we have to offer we have made this small, let`s call it a guide.
It might be interesting for you to watch this short video about our journals:
Moleskine Sizes - Specifications + Infographics
This infographics shows all Moleskine sizes in cm&in.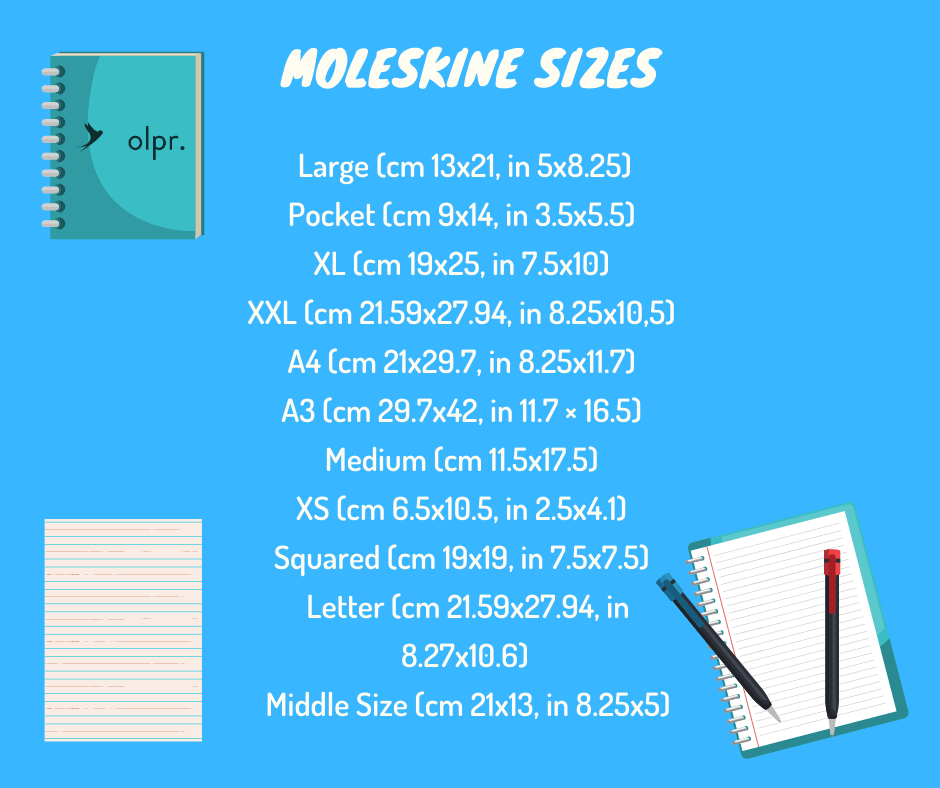 First and foremost, what is Moleskine notebook? The Moleskine brand was created in 1997. Since that time this company maintains the place among most popular manufacturers of notebooks and planners.
Moleskine products are well known and highly valued all around the world for its quality and convenience. Moleskine dimensions vary from tiny to large, for every need and budget. At olpr. we use some of the products made by this amazing brand.
Moleskine A5, Cahier Size or Pocket Size - Which One is Yours?

So, let`s check out the differences between Moleskine notebook types we offer.
When it comes to olpr. catalog we offer various Moleskine notebook sizes and three types - Classic, Cahier, and Volant. When choosing your Moleskine leather journal please consider the dimensions of the notebook itself.
Every Moleskine cover is refillable of course. When you fill out one notebook you can replace it with a new one. But they will only pair right with the exact type of journal they were intended for.
---
---
You need to consider that since a cover that was meant for Classic Moleskine notebook will not fit a Cahier, Moleskine a5 will not work for the same Leuchtturm1917 journal or the other way around.
In order to better understand the sizing, take a look at this small summary of the number of pagers. The type of cover and most importantly dimensions of various Moleskine notebooks we have in stock are as follows:
Leather Moleskine Journal Covers - Natural Material & High Durability

There you go, we hope that this little guide will help you choose the best type of journal for you or someone you care very much about!
No matter what size you go for: small pocket size Moleskine notebook or Moleskine large size, you are guaranteed the best quality. Monogrammed Moleskine in custom cover will bring a smile to your face every time you use it as well as will make a great gift!