For years leather watch bands have maintained the status of luxury accessory and for a good reason. They are comfortable to wear, fit any look, and their appearance is timeless.
Our natural cowhide Apple watch band is a classic example of the best quality strap for your watch. It is made of best full-grain leather with durable stitching and high-quality adapters. It looks elegant and can be ordered in three size variations for any wrist measurements. If you are looking for durable and stylish apple watch strap you are in the right place!
Due to the handmade nature, this leather is subject to changes in color, sometimes it can be lighter / darker than in the picture as each hide reacts to the dyeing process differently. This leather comes from the upper part of the cowhide, where the hide is the strongest, with all natural markings and imperfections preserved. This leather is of high quality, as it ages it develops a patina turning your particular piece to a one of a kind item with unique pattern and vintage look.
Full-Grain leather
Color: Natural
Strap length in three sizes
Choose adaptor color
Durable stitching
Handmade in the USA
Add your custom personalization to this item for an extra personal touch.
Engraving - The letters are carved onto the leather with the help of a laser machine. For an additional $10, If you would like initials engraved on your watch band, select the initials option under personalization at checkout and enter the initials (up to 2 characters). 
Default position for name engraving is on the watch band right under the watch face when you look at the watch.
To order custom message engraving, please, contact us for a custom order.
Personalized items cannot be returned.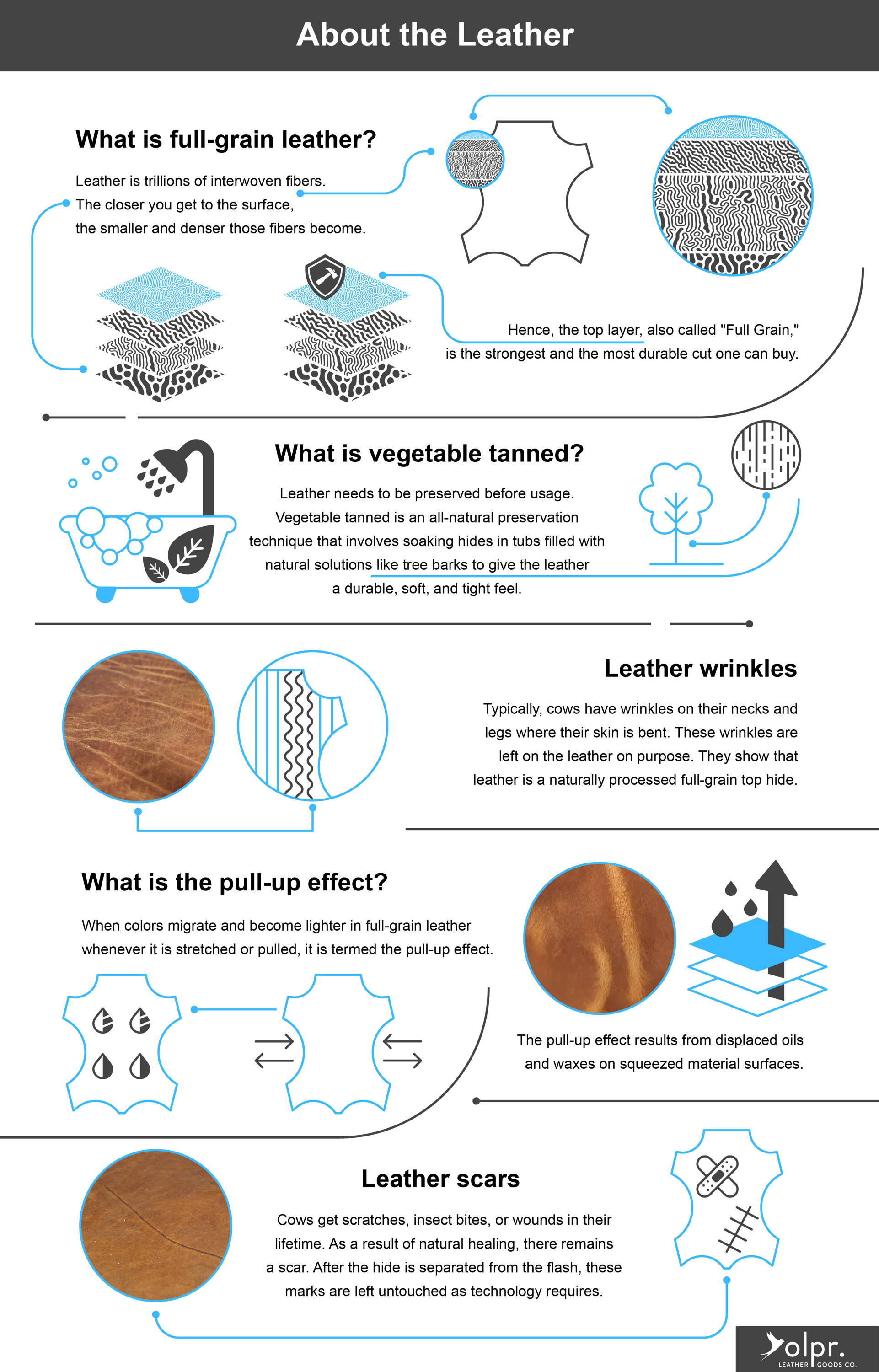 Type
Apple Watch Leather Band

Full-Grain Leather Apple Watch Band - Natural

Short: 5.1 – 6.2 inches (13-16 cm)

Regular: 5.7 – 7.4 inches (14.5-19 cm)

Long: 6.2 – 8.25 inches (16-20.5 cm)
Nice Quality and Great Customer Service!
I ordered two leather bands. Both are great quality, they look terrific, and the fit well. The customer service, though, really stands out. When I reviewed the order confirmation, I realized that, for one of the bands, I ordered the wrong size for my watch. I reached out to the store and, to my surprise, the fixed my mistake on the spot. Both bands were the correct size. I happily recommend the Milwaukee Leather watch bands and OPLR.
Excellent! This is a update review!
Hi I just wanted to give an update on my Apple Watch band. I have had my band now 4 months. My last review when I received the band.. stated I loved it but was skeptical about the hardware.
After owning this band now 4 months - everything is great! No issues whatsoever! The band is developing a beautiful patina! The English tan Dublin molds to your wrist so nicely and the color of the strap now is absolutely gorgeous!!
I want to now purchase an Italian style band!
Great job guys!!
Quality watch band
Nice leather band with great stitching on the finish.
Excellent Watch Band
I own about 20 Apple Watch bands, and this is one of the 2 best, (the other best one is also from olpr). Most watch bands are cheap, low quality Chinese bands that look and feel nothing like the advertisement pictures, and are way overpriced. Olpr provides a quality product with superlative customer service.
I really like it!
Let me just first say I've been purchasing leather goods especially wallets for a while now. I love Horween leathers. This is authentic Horween Dublin leather. Very very beautiful vegetable tanned leather.. the stitching is superb. The overall appearance is absolutely beautiful. The only con is the hardware seems a little delicate/ fragile . Is this stainless steel? And should this hardware last? Because I could be wrong . GREAT STRAP!!
Full-Grain Leather Apple Watch Band - Natural Color