Beautiful Leather Trifold Wallet
This black Italian leather trifold wallet is not bulky even while having two slots for cash, a slot for an ID in the middle, with one pocket underneath each three card slot on each side for the trifold wallet and two pockets for cash with one pocket underneath the three card slots on each side for our bifold. The wants and needs of our customers are always at the forefront of our minds when we are creating our products. We know how important it is for people to have a wallet that feels custom made for them, which is why we also offer personalization options whether it is a logo, a quote, or an individual's initials. We aim to continue to deliver stylish and practical items, while never sacrificing quality in the production of our goods.
Please, be aware, the new wallet can feel stiff at first. But the leather softens and stretches as the wallet is handled so it will be easy to slide the cards in and out.
Due to the handmade nature, this leather is subject to changes in color, sometimes it can be lighter / darker than in the picture as each hide reacts to the dyeing process differently. This uses full-grain leather which may contain unique blemishes, marks, or scars.
Italian leather
Color: Black
Durable stitching
8 pockets for cards
ID slot
Handmade in USA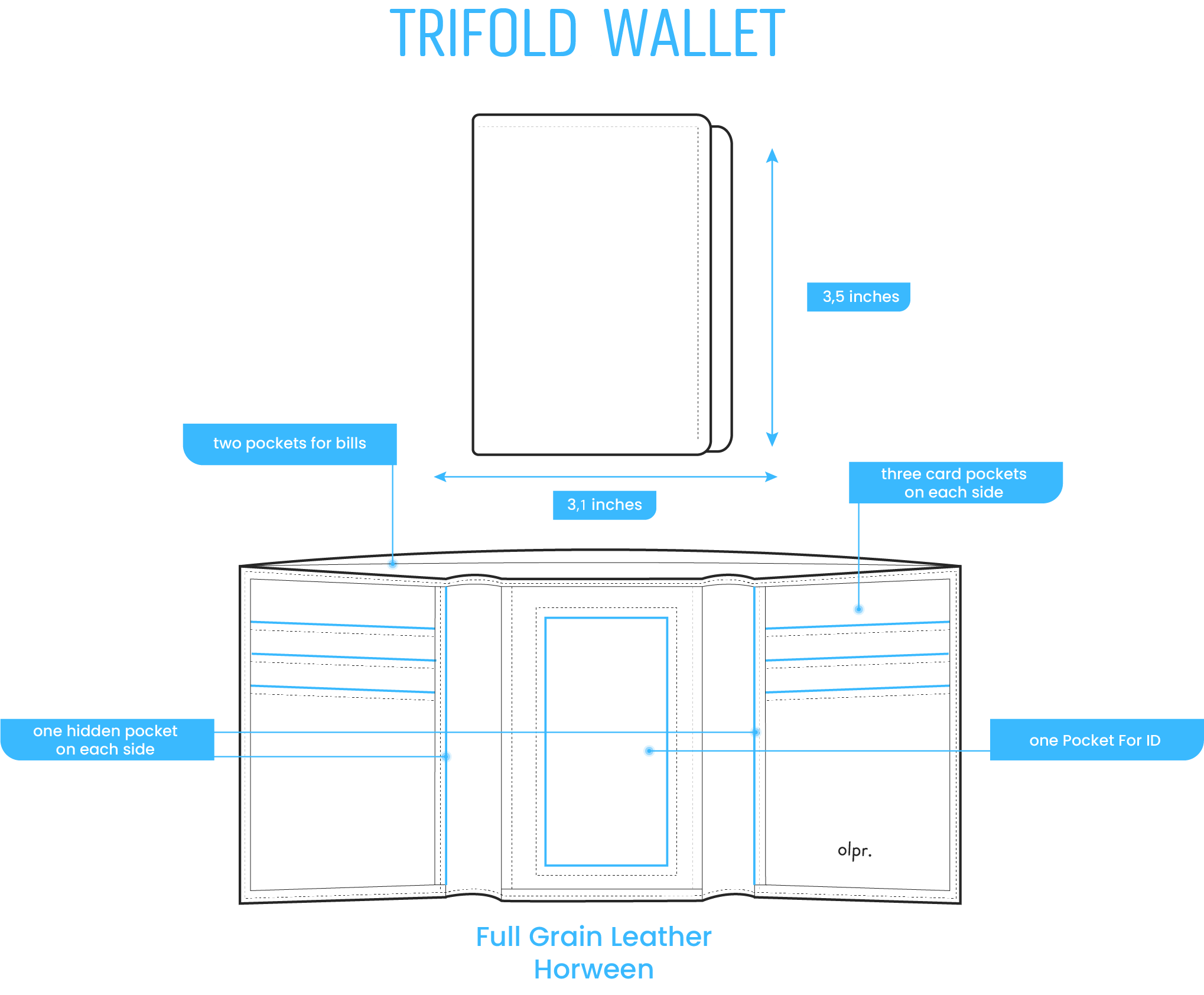 Add your custom personalization to this item for an extra personal touch.
Debossing - the letters are imprinted on leather with the help of special mold. The debossing is free of charge for up to 3 letters. Our standard font is Arial UPPERCASE- 7mm high; lower case 5mm high. This is included in the cost of the product, please add the initials you would like at checkout. For wallets, the default location for debossing is at the bottom right corner on the front.
Personalized items cannot be returned.
What is full grain leather
Basically, leather is trillions of interwoven fibers. The closer you get to the surface, the smaller and denser become those fibers. Hence, the top layer is the strongest and the most durable cut one can buy. The term "Full Grain" is used to define that top, uppermost layer of the cow hide which was not sanded or polished.
When we speak about leather, obviously it needs to be preserved before it can be used for crafting and making goods. Vegetable tanning is actually the way leather hide is preserved. This method is one of the many possible, but its distinctive feature is in all-natural technique. Hides are soaked in certain tubs filled with natural solutions, like tree bark.
These extracts are dense, and when they bind to the hide, they fill in the gaps in the fibers. By filling these gaps the leather becomes even more durable and tight. After that, it is finished with a combination of transparent waxes and oils, which gives the leather a very soft feel. Every piece made of vegetable tanned leather has unique shades and nuances, which are a mark of genuineness. Now you know more about full grain leather production and tanning.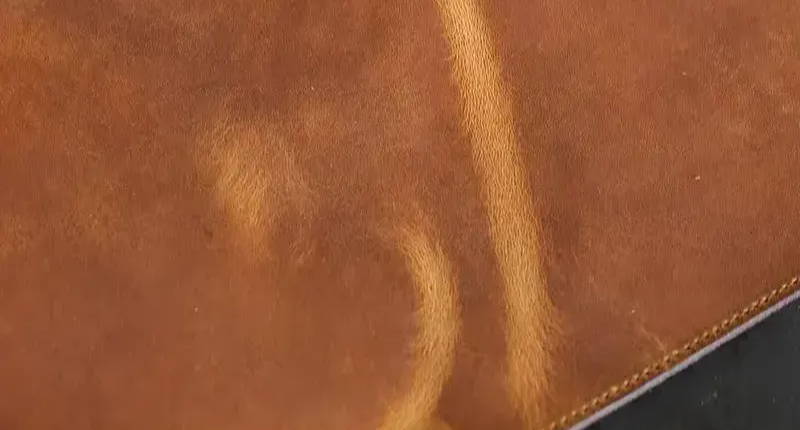 We touched on natural extracts and wax & oil finish so you can understand what "pull-up" is.
Color migrates and becomes lighter in full grain leather when it is stretched or pulled. Hence the term pull-up.
It is a characteristic of natural tanning processes and happens because oils and waxes are displaced on the surface by a movement of the material.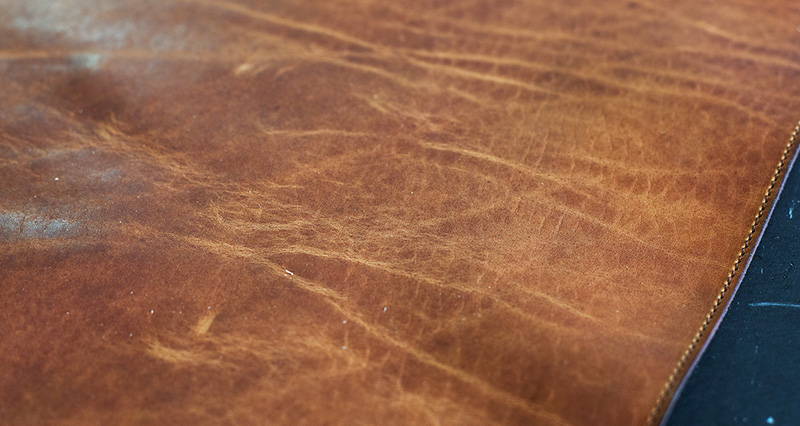 Other characteristics to take note of are wrinkles. As full grain leather is not sanded during production it preserves its natural look. Normally, the cow has wrinkles where the skin was bent, like on the neck, near legs etc. These wrinkles are not removed on purpose. They show that leather is correctly processed full grain top hide.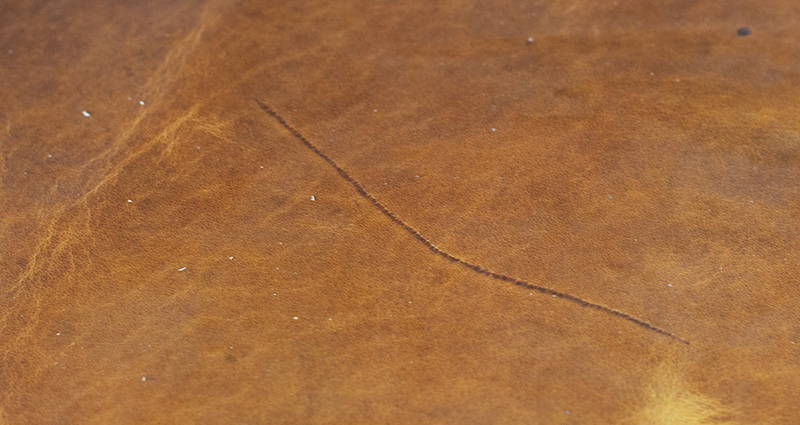 Same as wrinkles, scars on leather hide are also preserved. During its life the animal may get scratches, insects bites or small wounds. As a result of natural healing there remains a scar. After the hide is separated from the flash, these marks are left untouched as required by the technology.
Details
Product

Italian Leather Trifold Wallet - Black

Height: 4.5" (11,5 cm)

Width: 3.1" (8 cm)

8 pockets for cards

2 slot for cash
Written by
an anonymous user
on
Customer Reviews
based on reviews
There are no customer reviews yet.
Thank you for submitting your review. Once it is approved, your review will show up in the list of reviews.
Submitting your review failed. Please try again.
Italian Leather Trifold Wallet - Black