Handmade Leather Knife Case
completely handcrafted
custom full-grain leather sheath
designed for general use or even everyday carry
made in USA
Our leather is sourced from Seidel Tanning Corp which is located in Milwaukee, Wisconsin. Seidel Tanning is a fourth generation, family-owned business that sources all of their hides from US domestic markets. They work to combine new and old techniques, use a combination of chrome and vegetable tanning, and make all of their leather to order. Seidel has worked with us to create the perfect formula for our leather, which has a unique and rugged look. This leather develops a nice patina with use, is durable, and resistant to color fading over time.
What is full grain leather
Basically, leather is trillions of interwoven fibers. The closer you get to the surface, the smaller and denser become those fibers. Hence, the top layer is the strongest and the most durable cut one can buy. The term "Full Grain" is used to define that top, uppermost layer of the cow hide which was not sanded or polished.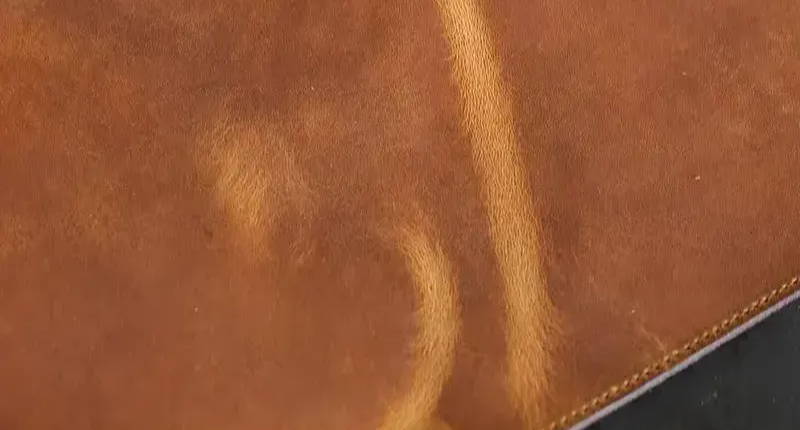 We touched on natural extracts and wax & oil finish so you can understand what "pull-up" is. Color migrates and becomes lighter in full grain leather when it is stretched or pulled. Hence the term pull-up. It is a characteristic of natural tanning processes and happens because oils and waxes are displaced on the surface by a movement of the material.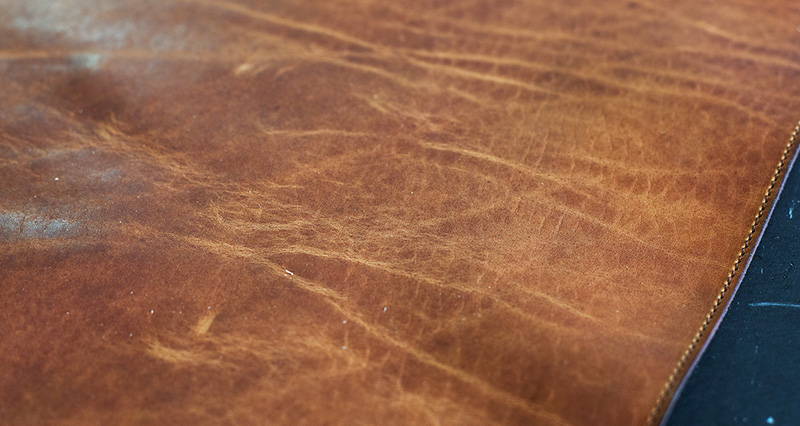 Other characteristics to take note of are wrinkles. As full grain leather is not sanded during production it preserves its natural look. Normally, the cow has wrinkles where the skin was bent, like on the neck, near legs etc. These wrinkles are not removed on purpose. They show that leather is correctly processed full grain top hide.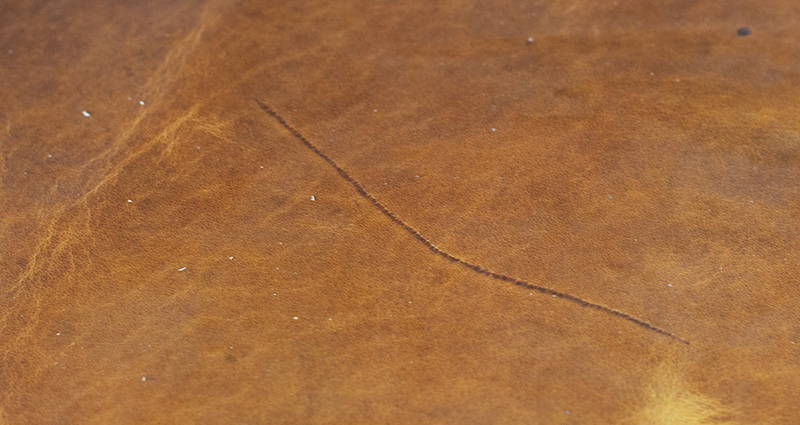 Same as wrinkles, scars on leather hide are also preserved. During its life the animal may get scratches, insects bites or small wounds. As a result of natural healing there remains a scar. After the hide is separated from the flash, these marks are left untouched as required by the technology.
Handmade Leather Knife Case