Are you interested in becoming a bartender? Then from buying the right bartender set to learning all the tricks, you have an interesting journey ahead.
---
When you first take your step behind the bar, it makes the world of the club and pub feel totally different. In an instant, you go from the inebriated reveller shouting comical names of cocktails at a stranger, to a translator of sorts. You spend most of your day doing your best to hear drunken people enunciate and act out their desired order, all whilst decibel-piercing music bursts into your heart, mind and soul.
For that reason, it takes a certain type of person to be a good bartender; someone with a bit of passion, charisma and general cool factor about them. However, you can buy the best bartender set in the world or pick up any bartender tool bag that you like. If you aren't someone who can handle the 100mph lifestyle of life on the other side of the bar, you will struggle.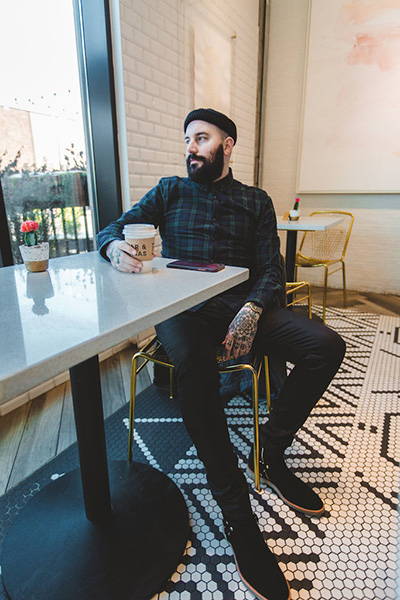 Worried that you might have made/be making a career choice that you will grow to utterly despise? Read on.
In this article, we're going to break down some pretty decent tips that can help you to make a career of this. We were lucky enough to talk to Chad Whittington, a bartender over at Charlotte's. Chad is a proper barkeep; the kind with the wise cracks, the selling smile and that desire to help everyone have a good night.
He's someone who knows all about the art of bartending. So, when we recently put together a bartender set for Chad, we spoke to him a little about what the job entails. We were lucky to find out some tips we want to share with you.
One of the main reasons why we wrote this, though, was like most conversations with a bartender. We got in touch with Chad to find out how he was finding that bespoke bartender set that we made for him. When we spoke to him, we found out that he was more than happy with the overall product, and we got to talking to the point where we'd consider him our friend!
Since we are always interested in what our clients are doing with the products we made for him, we decided to stop off and have a little chat. We wanted to know what Chad thought of the stuff, but in the meantime we managed to score you some rather awesome tips and tricks that you can begin using in the wonderful world of bar work starting from today.
Whether it's down to the bar equipment or if the bartender needs to have more than a few good jokes up his or her sleeve, we got down to business. This is what we were able to find out from a connoisseur of the industry and an experienced expert in making those barely pronounceable cocktail drinks!
So, what did our cocktail mixing hero, Chad, tell us about the art of being a top quality barman?
Chad, how did you become a bartender?
I started out as a server, and always noticed a livelier and personable vibe going on at the bar! Really, though, I just always wanted to learn more about the art of bar work, and be behind it. So, I started asking to be trained to barback and to bartend.
We hear people talking about bartenders and mixologists…what's the big difference? What do you consider yourself?
A bartender is just that; someone who tends to the bar. Their job is to give the patrons what they ask for, and to provide a hospitable environment. Without that, it's pretty hard for a bartender to do be good at their job!
However, a mixologist is a little different. Most of the time, they are someone who studies the liquors and processes involved in the making of them. This helps them to know how to pair them with all manner of things to create cocktails. They also learn how to pair with food and other things as well. I would consider myself an educated bartender who is constantly learning and elevating my knowledge and craft.
I'm not exactly a mixologist yet, but it's something that I would love to learn more about as time goes on, definitely.
Read Also: Mixologist Vs Bartender: Know The Difference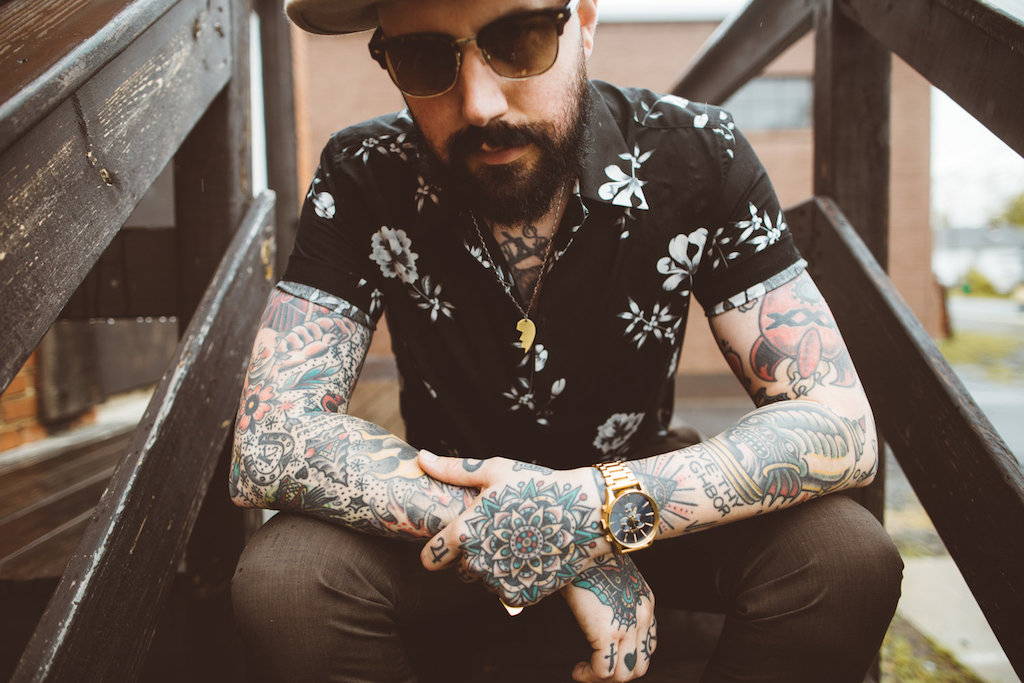 What skills should you have to be a top bartender?
There are three thing that will typically make or break a bartender, in my experience. Those three things: Technique, Poise and Knowledge. That's very important. You can't be a good bartender if you aren't good at making drinks work together; it really is that simple. By the same token, though, you couldn't be a good bartender if you aren't able to make the knowledge of the alcohol you are serving go a long way.
Knowledge, too, matters if you want to make a good relationship with your customer and make everyone who comes to the bar feel welcome.
Read Also: Becoming A Bartender: What You Really Need
How often do you need to learn more about being a bartender?
All the time! People think it's been the same stuff for generations, but it really couldn't be further from the case. As a bartender, you always keep learning. For example, technology is now being mixed with cocktails. So, we must stay on top of it all to keep it all up to date and keep giving people a good mixture of the stuff that they want.
What's your favourite or go-to cocktail right now?
Good question! Right now, I'm into rye whiskey, so a good Manhattan with it is nice. As you can imagine, though, it changes all the time; it's like a bakery, you get used to seeing the stuff that you need to keep varying up your tastes to find something new!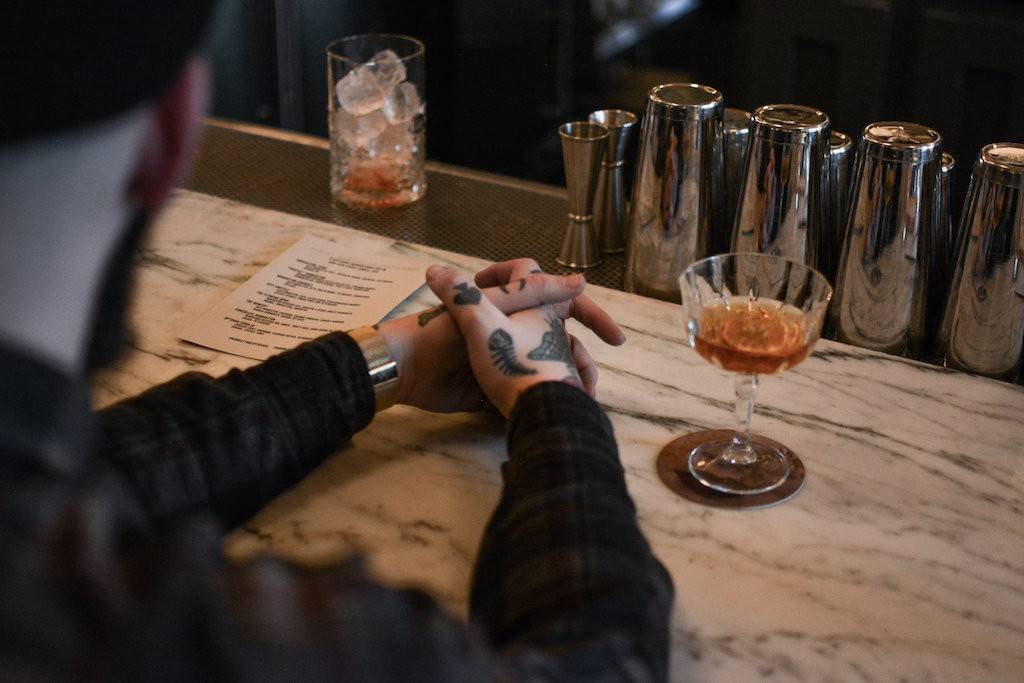 What drink, in your opinion, is the most versatile? What cocktail do people order the most?
In my experience so far, it's only one answer: a classic martini!
It's so versatile in what you can do with it, so many people order it because of that. From vodka to gin, to dry to dirty to what you garnish it with, there's like a ridiculous amount of choice for what you can do with a classic martini. For that reason, it's probably the most popular drink out there for a lot of people.
What advice would you give to someone who wanted to make great cocktails?
Be prepared to learn, and never think that you know it all. Learn and study the craft, know how things are made and why they should be paired with certain flavours and ingredients. And always use the freshest highest of quality ingredients. Cutting corners leads to people looking for their quality good times elsewhere; people are paying a fair amount for a good drink, so it's important that we use the best stuff.
If you ever want to cut corners, you need to re-evaluate how good a time you are making it possible for people to have.
What do you see as some of the trends that may stick this year?
Handcrafted cocktail ice, or bringing more vegetables and herbs into cocktails. Fruits are cool, obviously, but you can do so much more with vegetables and herbs. While I don't mind imagine anyone wanting to order a broccoli martini, I've seen a lot of people adding spice and a bit of extra kick to their drink. I see that being a big thing in the next year or so.
What's the best thing about your job?
Turning someone on to a spirit or cocktail they never thought they would try. There's nothing better than seeing someone disgusted by the thought of a cocktail, then seeing them order them all night!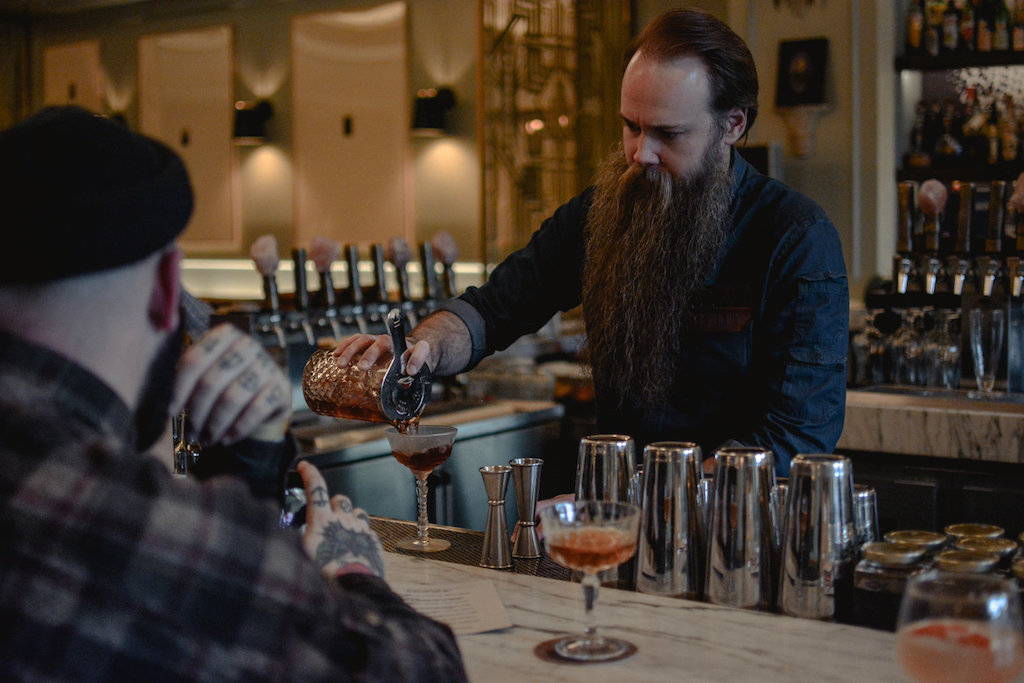 Who or what inspires you?
All the bartenders out there who are constantly playing and trying new things. They make it so easy for other people to be creative; other industries are quite inhibitive, but I find that bartending is the opposite.
If there was a bar dedicated to your cocktails, what would it look like?
It would be rooftop, for sure. It would be partly covered at the top for shade or shelter, and would have plenty of couches and bar seats and a mix of tiki and library styled aesthetics!
Tell us something that most people don't know about you 🙂
I have a fake left elbow joint; not sure if that helps me in my work or not!
So, as you can see, there's a fair amount of work that has to go into being a good expert with the old bartending industry. With Chad' advice, though, we hope that you will be able to pick up some inspiration for your move into the industry. If you do, then make sure that you look to invest in some useful bartender equipment. From a bartender tool-bag to a mixture of new cocktails to try out, always make sure you are innovating and exciting – it's the best way to succeed!