Any item made of original leather oozes of class, and is extremely hardwearing and durable. If well taken care of, your leather accessories and possessions should last a lifetime. One advantage of owning leather items is that they require very minimal care. Daily or frequent cleaning is unwarranted, as any marks or scratches that result from daily use can be very easily rubbed or polished out.
Keep in mind, however, that little or minimal care does not translate to no care at all. No matter what type of handmade leather goods you own – accessories such as bags or purses or even phone cases; office furniture such as desk pads; house furniture such as leather chairs; or leather upholstery in your car – you have to clean and care for them regularly. When it comes to cleaning leather, you don't need to purchase any special or high-end products to maintain its fresh and attractive look. Simple and easily accessible household cleaning agents like soft cloth and mild detergent or soap can be used in leather care, so you don't have to break the bank. All you need to buy in addition to your household cleaning agents are saddle soap (leather cleaner) and leather conditioner.
As long as you have knowledge of the cleaning products as well as the right methods to employ, cleaning leather will be very easy. When using a cleaning solution for the first time, be sure to always test it on a small area of your leather item first, so as to be certain that the material won't get damaged by the solution. When washing leather, you can't use the same cleaning methods you use when you wash clothes. This will damage the leather because leather is made of properties different from clothes.
The following tip and tricks will help you when it comes to cleaning different items made from leather: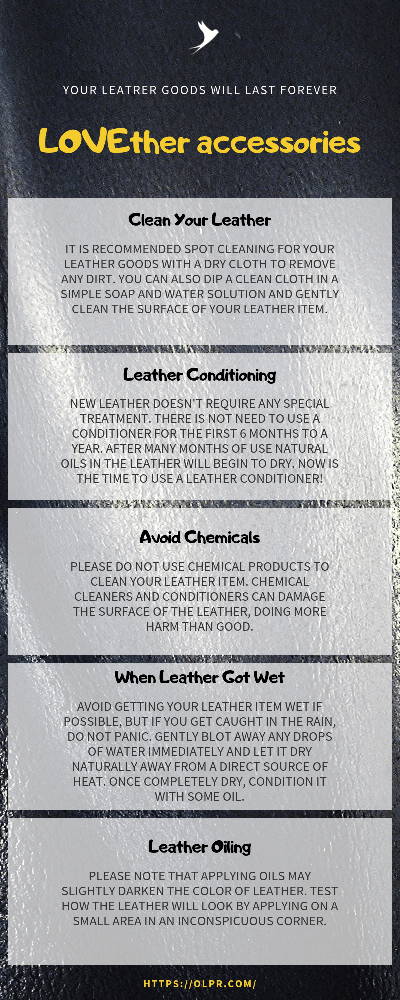 Cleaning leather bags and purses
Due to the fact that and purses are used outdoors almost every day, they are highly susceptible to stains and spots. You have to take precautions and measurements when using soap and detergent. The residue left by the soap can hinder the leather from breathing and this will result in cracking and dry patches. Follow these handy tips anytime you clean your leather purses and bags. Remember to test it out on a small area first to be sure it will cause no damage.
Get some soap (preferably facial soap or a very mild detergent) and some water (use bottled or distilled water, because there might be particles in tap water). Mix one part soap with eight parts of water.
Transfer the mixture into a spray bottle, and then spray onto a sturdy sponge or cloth. For best possible results, use a microfiber cloth. Avoid spraying directly onto the leather as it could result in oversaturation.
Going with, rather than against the grain of the leather, wipe the stain gently.
Once you have successfully gotten rid of the stain, leave the purse or bag to air dry.
Once it's dry, wipe with a tiny amount of leather moisturizer. This will help protect the leather.
Make sure you actively avoid chemicals
You might think that chemical products will give you better results, but this is wrong. Avoid using chemical products to clean your bags, purses, wallets, or any other leather items. Chemical conditioners and cleaners do more harm than good and can end up damaging the surface of the leather.
Keep your items away from and out of the rain
Be extra careful when it rains, or during the rainy season. Try as much you can not get both women's and men's leather goods leather belts, phone cases, laptop bags, or other items wet. If they eventually get caught in the rain, you don't have to panic. All you have to do is gently blot away any and all drops of water immediately, and then let it air dry. Do not place it next to a direct source of heat, or try to dry it using a hairdryer. Direct heat only damages leather. For other spilled liquid, use a damp soft cloth to carefully wipe away. Remember to always let the full-grain leather dry naturally.
In case of hard to reach areas, make use of a toothbrush
While cleaning your leather items, it's normal to come across hard to reach areas. Use a toothbrush to reach and clean these areas on the . Dip the toothbrush in some warm water, and then in your already made soap and water mixture. Gently scrub affected areas, leave to dry, and then wipe it off with a soft cloth.
Cleaning Leather Furniture
It's not uncommon to see furniture made out of leather, such as sofas and cushions. Be careful, and make sure you do not clean leather furniture with the heavy-duty household cleaners which you use everywhere else. This could result in the leather becoming bobbled or worn. The following steps will provide you with all you need to clean your leather furniture in a way that will result in no damage:
The first thing you should do is vacuum the furniture to get rid of all dust and particles.
Next, apply a small amount of mild detergent onto the furniture using a small cloth. It's better to use a saddle soap that contains oils and waxes so the shine of the leather will be maintained.
Make use of a different cloth to wipe over the leather with cool, clean water. Make sure you do not oversaturate the fabric.
Once all the soap has been wiped, let it air dry. Close blinds and curtains so as to shield furniture from direct sunlight.
There you have it! Cleaning and caring for your full-grain leather items is really easy and uncomplicated. It is also fast and will take up too much of your time. Once you take good care of your leather items, they will definitely last a lifetime, giving you your money's worth.