While fashion comes in and out of trends, leather bags always remain timeless. With their practicality and sleek designs, they can fit every occasion and can be enjoyed year after year with the proper care. Whether you're looking to replace a beloved bag or start a new collection, these are the best leather bags of the year.
There is a bag for everyone and every circumstance, whether you're a working lady heading to the office, a busy mom with a child in each arm, an active student running around campus prepping for tests, or just a scheduled woman who has many places to be and people to see.
Everyone has different needs throughout the day, so it's important to choose the perfect bag to suit those requirements.
Do you need a bag large enough in size to carry a laptop? Do you just need something small to stay away from carrying more than you need, aside from your phone and wallet? Do you have baby needs, such diapers, wipes and binkes, that require some extra carrying space?
Your bag should also be something that complements your wardrobe in color, style, size and feel. At the end of the day, these bags are more than just for practical reasons – they are a true reflection of what you need and how you want to present yourself. Is an edgier black more your style or are you into a minimalistic brown than can match any outfit or occasion?
Do you find yourself preferring a design that's classical and you're used to carrying, or are you looking for something a bit more modern and unique? These are the questions should be asking yourself when preparing to plunge into the purchase or a quality leather product.
Leather is a great choice for an everyday bag with its high quality, durability and premium standard. It will outlive the trends of the year, or even the decade, and when you look back in photos, you'll appreciate not only choosing a bag that tells the tales of that time in your life but also one that you won't cringe at because it won't be outdated.
Leather is also biodegradable, so you can enjoy it while you're wearing it daily and when you've decided it's been used and abused enough, it doesn't have to hurt the earth for hundreds of years after.
Here are the top women's bags:
The Hobo Bag can act as a great start to your leather buying because of its ample space and comfortable nature. It can fit everything you need throughout the day in it with its ample storage area inside. With its thick strap, the weight won't add any pain to your shoulder or hand, in comparison to a thin strap that can dig into your skin. The soft leather and bulkier nature of the bag allows for durability while also looking delicate. It will easily outlive the time you desperately need it, making it a perfect relic of your past to pass down for generations to come.
Written by
an anonymous user
on
Customer Reviews
based on reviews
There are no customer reviews yet.
Thank you for submitting your review. Once it is approved, your review will show up in the list of reviews.
Submitting your review failed. Please try again.
Pros:
High-quality Horween Crazy Horse leather

Ample storage space

Magnetic snap closure

Pockets for security

Soft texture

Timeless design

Large size
Cons:
Not compact

Shorter strap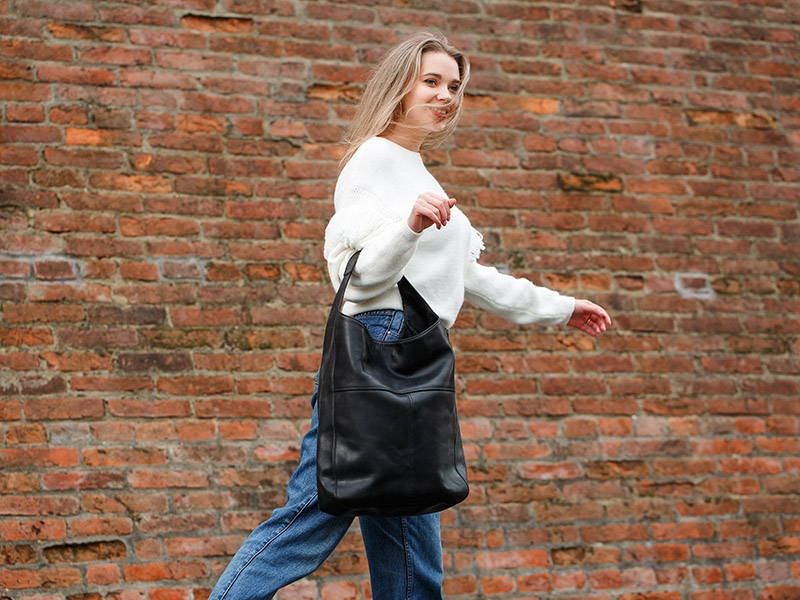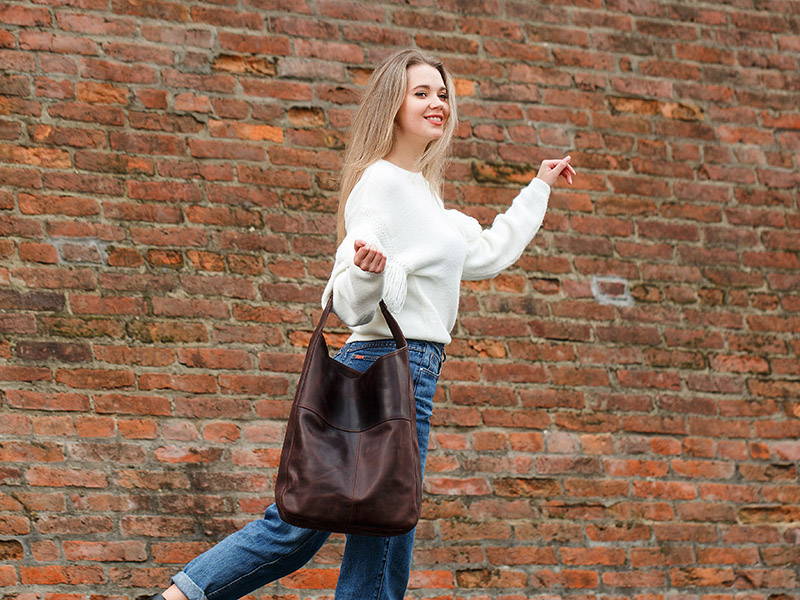 ---
---
The perfect bag for everyday use, the Simple Tote has enough space to carry your phone, laptop, wallet and even a book or two. Durable and simply designed, this timeless bag has three interior pockets that will allow the small items to stay secured and safe throughout your busy day. There is also a key carabiner for you to easily attach and grab your keys, so you can avoid fishing at the bottom of your bag for 10 minutes on your way home.
The snap closure at the top of the bag will give you an ease of mind that none of your items will fall out during the course of your travels that day.
The medium-sized handles will give you enough support when carrying your items and will also not dig into your shoulder with the more weight you add to the bag, making it not only convenient but versatile.
Pros:
Durable and high-quality leather

Handcrafted in the USA

Ample storage space

Compartments for storage

Magnetic snap closure

Sleek design

Key carabiner
Cons:
Bag divider insert may be needed

Shorter strap
On the inside, there are even two zip-up pockets for added security your items and so that you know exactly where to grab the item you need. On the exterior of the bag, there is a single pocket for easy accessibility of on-the-go items, such as a lip balm, eye glass cleaner, ear buds or gum. The Urban Tote is a great size that you can make smaller or larger, depending on whether you want to the flap to folder over or remain open.
tote Specifications:
Height: 11.8"
Top Width: 15.8"
Bottom Width: 11.8"
Interior: 2 pockets, key carabiner
Closure: Magnet snap closure
Genuine Floater Leather
Perfect for working women who don't want to worry about not having enough space for all their important items or losing anything from a bag that has an open top.
The Urban Tote has an added security of having a fold-over flap to ensure no loose ends fall out or nosey hands get in.
If you rely on public transportation, this is a great bag for everyday use to ensure nothing gets stolen and you don't lose anything during your hectic commute.
Pros:
Added security of fold-over flap

Rich and soft Floater leather

Ample storage space

Security compartments

Key carabiner
Cons:
Not compact

Shorter strap not allowing for crossbody wear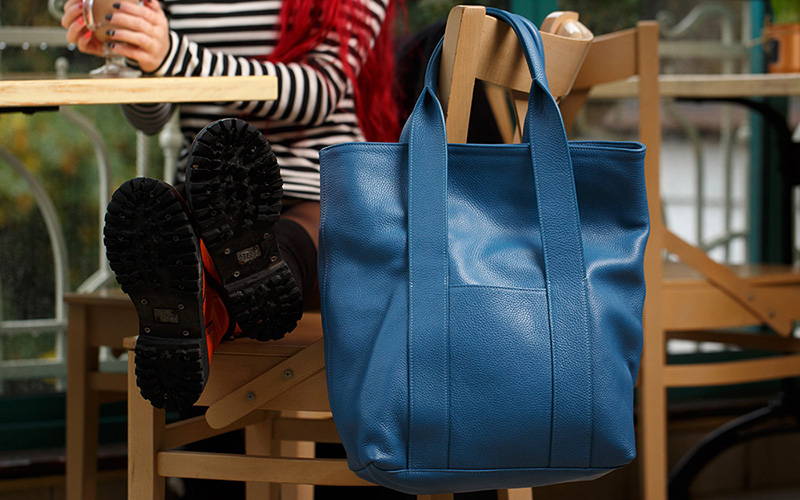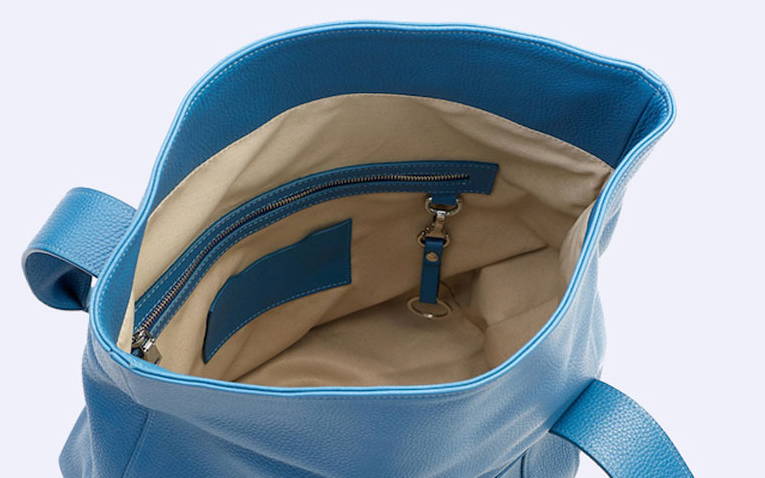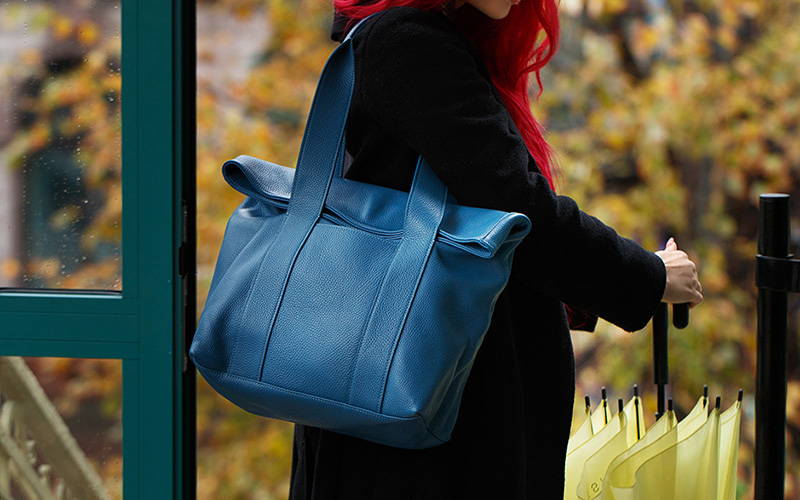 Serving as of the key bag types of the decade, the Circle Bag is compact, trendy and convenient. Large enough to carry the necessities but also small enough that it doesn't feel like you're lugging around a suitcase, this bag can become a crossbody style or can simply be worn over the shoulder. It's a wonderful out-on-the-town option during daytime or nighttime, and it's great for any occasion for which you don't need to carry anything large.
circle Specifications:
Diameter (inch): 8
Color: Grey, Cream, Brown
Closure: Zipper
Strap: Adjustable
Width: 3 inches
Leather: Genuine floater
While you can't fit a laptop or tablet, the Circle Bag ensures weight distribution and that you aren't carrying more than you need. The thick strap also ensures comfort while begin adjustable for accessibility. It's a fun way to add leather to your collection without spending more money than you have in your budget, while also fitting your style.
Pros:
Soft and durable Floater leather

High resistance to wear and tear

Comfortable to wear

Sufficient space

Can be crossbody

Compact size
Cons:
Not suitable for large items
This powder pink Women's Backpack is a perfect balance between style and functionality. Large enough to fit a laptop but small enough that you don't have too much weight on your back, your hands and arms are free to do whatever you have to get done. The sophisticated and sleek design adds a timeless appeal to the structure, making for a great everyday backpack.
Backpack Specifications:
Dimentions: 13 x 10 x 3 inches
Color: Pink
Additional: Exterior Pocket
Size: Middle
Made in: USA
Leather: Soft leather
While you may be traditionally more comfortable with a black or brown backpack, this soft pink adds a light splash of color to your wardrobe that can complement what you're wearing. While it's a color that Is just outside traditional neutral tones, you don't need to style your outfit around the bag – you can simply just add the backpack to any look. Accentuate your look while fulfilling your needs with this timeless and effortlessly fun leather item.
Pros:
Soft natural leather

Delicate pink color

Longevity in mind

Durable hardware

Convenient design

Comfortable shoulder straps
Whether you're looking for a bag to suit your needs throughout the day or you require a simple yet sophisticated style at night for going out, the Small Minimal Bag can suit your every situation. It's unusual yet unique design is composed of two flaps that have accompanying pockets to hold your items.
As probably one of the sleekest fanny packs to date, this bag complements any outfit or other accessories.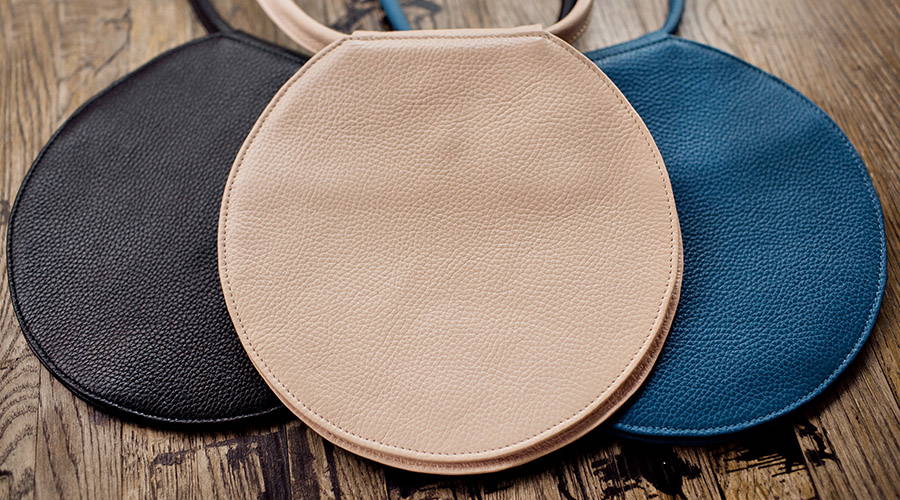 Coming in a variety of colors, you can choose which pigment fits your needs.
This will be one of the items in your wardrobe you will undoubtedly get asked about because of its unique and artistic structure.
Pros:
Rich and stylish powder leather

Sophisticated style

Compact

Durable interior

Hands-free design
Hard-working men deserve a bag that will not only fit their needs but also suit their style. Ripped-up backpacks and clunky suitcases are in the past – what men need now are bags that will fit their every situation at any moment.
Whether you're heading into the office, going to class or you just simply need a travel bag, these leather options will fulfill any necessity. What's even more wonderful is they don't have to be used for only one instance, they can suit your daily life for any state.  
Leather has more appeal too than just being trendy, sleek and handsome. It is durable for almost any situation with proper care, traditional so it will never go out of style, and of the highest quality so you know you have the proper support you need to take on the day.
Here are the top men's leather bags of 2020:
If you're in need of a bag to carry only your essential items and you don't want to worry about carrying it around, a Belt Bag will be the perfect choice for it. The simple design of this fanny pack-style bag allows for ease of use whether you choose to throw it across your waste or wear it across your torso like a crossbody. You can dress it up or dress it down depending on the rest of your outfit – so no need to go home to change your bag before heading to your next location or task.
Easy to use and with a simple design that stands out almost instantly, this is a bag that works ideally as well for a formal event as it does for a day-to-day shopping trip. Many other bags of this style are often colorful and can clash with everyday outfits, so by choosing a neutral leather, you can instead enhance what you are already wearing.
Belt bag Specifications:
Height: 5 1/2"
Top width: 12 1/4"
Interior: 2 pockets
Key carabiner
Leather: Genuine Floater Leather
Inside: Lining
Leather: Genuine Floater Leather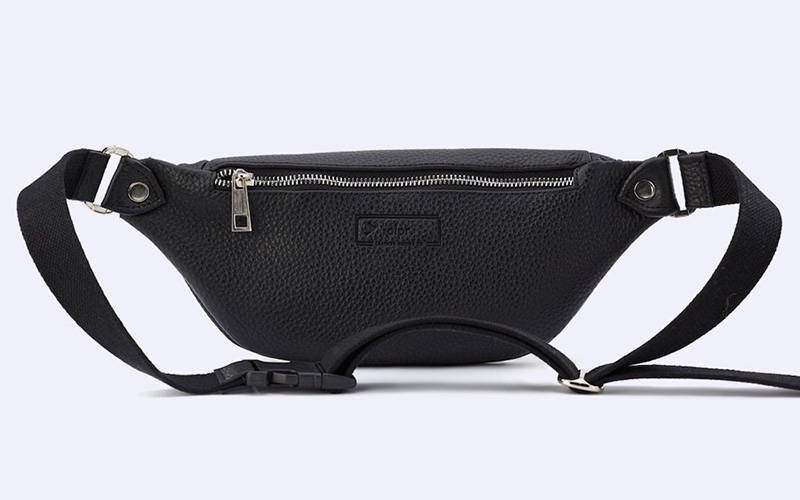 Pros:
Handmade Floater leather

2 zipped pockets with durable lining

Modern style

Compact

Hands-free design

Adjustable strap
The Leather Backpack is the best option for any modern and active man. With ample space to hold a laptop, paperwork, books and more, the compartments of this bag ensure ease of use and organization. Urban life is made easy with this stylish backpack that can suit any age and situation.
Serving as a wonderful travel backpack too, you can fit several days' worth of clothing, toiletries, and necessities, and have it on your back and off your mind. As an added bonus, there is even a secret pocket at the base of the bag that allows you to access your phone, wallet or anything else you wanted hidden.